Williamson - It was tough
Kane Williamson admitted he faced his toughest situation in Test cricket yet after scoring an unbeaten century to deny South Africa.
Last Updated: 27/03/12 9:54am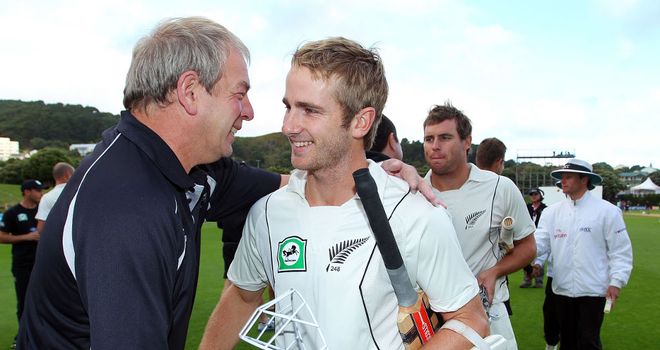 Kane Williamson admitted he faced his toughest situation in Test cricket yet after scoring an unbeaten century to deny South Africa on Tuesday.
The 21-year-old scored 102 not out from 228 balls in New Zealand's 200-6 as the third and final Test in Wellington ended in a draw.
Set 389 to win, Williamson was the only frontline batsman to pass 20 as he ground his way to his second Test century, and shared in valuable tail-end partnerships with Kruger van Wyk and Doug Bracewell to snare an unlikely draw.
When asked if the situation was the toughest he had faced in any of his 12 Test matches to date, Williamson replied: "Yeah without doubt.
"Just the situation that we were in, not having a sniff and having to bat out a draw is sometimes an interesting situation to play.
"It was nice to show some fight take it to the end and compete."
Williamson, who survived a number of dropped catches, felt the intensity and also South Africa's frustration levels increased the longer he stayed at the crease.
"Yeah at times they were very competitive which is to be expected, they want to win the Test match obviously," he added when asked if the chatter had increased throughout the day.
Momentum
"It comes and goes a little bit as you start getting under way and gathering a little bit of momentum - opposition sides don't tend to say as much.
"I think on a wicket like that it was always going to be tough to take wickets so when chances go down its obviously frustrating."
While his innings did not stop his side losing the series 1-0, it earned the praise of New Zealand vice-captain Brendon McCullum.
He said: "I'm not quite sure that Kane has realised what he has done just yet.
"In terms of New Zealand cricket history, it will go down as one of the more gutsier innings and one of the more gutsy fighting efforts on the last day against this sort of attack.
"It took a pretty special innings from one person and some supporting acts from others to be able to keep them at bay.
"There was never a let up in that bowling attack and they continued to come at you and never made it easy... they gave it their best shot but couldn't get past Kane."
Given life
Aside from two dropped catches, Williamson was also given a life when television replays were inconclusive as to whether Alviro Petersen had taken a catch at point when he was on seven.
South Africa captain Graeme Smith said afterwards that the decision was part of the game and his side would live with it, while praising Williamson for his innings.
"That decision went against us. But there's no point crying over spilt milk. Kane played well after that," he said.
"He stood his ground terrifically. We gave him everything. People will talk about the chances he had but that's done, it's part of batting and the sport.
"We threw a lot at him and he stood his ground. He was very calm. It was a terrific knock in the end."