Mahela: We showed character
Sri Lanka skipper Mahela Jayawardene was delighted to see his side claim their first win on home soil since Muttiah Muralitharan's retirement.
Last Updated: 29/03/12 12:13pm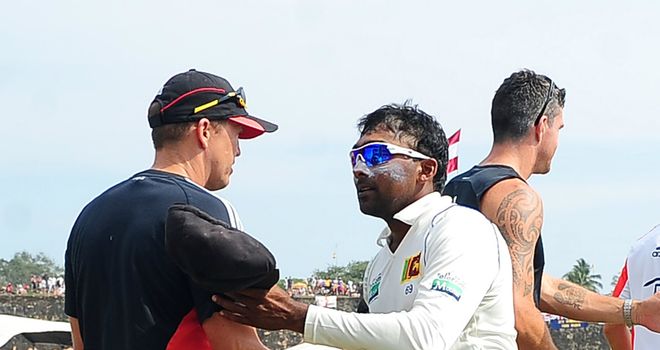 Sri Lanka skipper Mahela Jayawardene was delighted to see his side claim their first win on home soil since the retirement of Muttiah Muralitharan.
England were bowled out for 264 in pursuit of a victory target of 340 shortly after tea on day four in Galle.
Left-arm spinner Rangana Herath stepped into the shoes of Muralitharan with aplomb, finishing with 12 wickets in the match.
And Sri Lanka need only a draw in Colombo next week (April 3-7) to seal a series win over the world's top-ranked Test side.
"It's been a tough period for us, but the boys worked really hard to improve as a unit and today we showed a lot of character," Jaywardene, who set the game up for his team with 180 in the first innings, told Sky Sports.
"England played really well and Trotty's innings was excellent.
"We had to hang in there and try and get those wickets."
Ford delighted
Sri Lanka's South African coach Graham Ford expressed his satisfaction at the victory after the match, telling Sky Sports: "I am highly delighted.
"It was a fantastic Test match, another great advert for Test cricket that see-sawed a heck of a lot.
"At one stage it looked like the powerful England batting line-up was going to do the job, they were starting to control the innings.
"Then things happened pretty quickly and I'm really pleased throughout the four days just how hard our guys fought, they kept fighting the battle and never gave up.
"It was one of those wickets where, if you got in, you started to feel comfortable and Trotty (Jonathan Trott) showed exactly that.
"He and Matt Prior started to really control the innings and it took a bit of freakish fielding to suddenly change things. But at that stage they were controlling the game and possibly the change of the ball, getting the new ball helped as well."
Praise for Herath
Ford also reserved special praise for Herath and acknowledged that he thought England's plan to be aggressive against Sri Lanka's attack had back-fired somewhat.
"Both spinners have worked very hard," he continued. "Rangana Herath is a tough little customer. He's got some subtle variations and has been doing this business for quite a while and I thought his control throughout both innings was really special.
"It seemed as though England came out with a game-plan to be pretty positive and I suppose that was to try and unsettle our bowlers.
"With four main bowlers in your line-up it's always a bit of a strategy to try and unsettle the bowlers and I think that was probably the plan and, fortunately for us, that probably led a to a dismissal or two that really got us in the game."
However, Ford admitted he was not entirely satisfied with the performance and pinpointed the the top order of Sri Lanka's batting line-up as an area that needs improvement.
" I believe that (the top order) has been a concern for a bit of time now," he added. "We're looking long term and we really want to establish ourselves as a top Test-playing nation and the start of the innings is absolutely crucial.
"We need to look at that area and try to develop a partnership up front that we can rely on and that can set the tone in matches to come."