Hogan delays Glamorgan arrival
Australian paceman Michael Hogan will now accept a county deal with Glamorgan from next season.
Last Updated: 30/05/12 12:31pm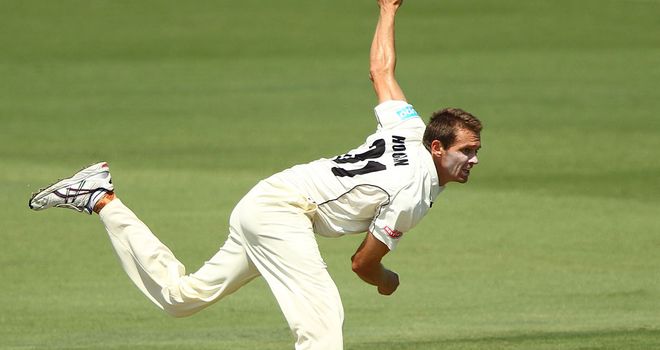 Paceman Michael Hogan will retire from Australian cricket in order to accept a county deal with Glamorgan from next season.
The Welsh county have confirmed that Hogan has delayed his arrival, on a two-year-deal, until next April in order to see out the final year of his contract with Western Australia.
The 30-year-old, who was the second-leading wicket-taker in the Sheffield Shield last season, had been forced to chose between the two teams due to passport issues.
Hogan holds a British passport which, while ensuring he would not use up an extra overseas position with Glamorgan, has meant he has had to terminate any lingering hopes of representing Australia.
"Glamorgan Cricket have confirmed that Michael Hogan will now be joining the Welsh county at the start of the 2013 season," a statement read.
"Hogan was originally due to join up with Glamorgan for the last two months of the current season but will now see out the final year of his Western Australia contract.
New challenge
"He has recently announced that he will also retire from playing cricket in Australia at the end of March 2013.
"He will then join up with his new team-mates at the SWALEC Stadium ahead of the start of the new season and will play for Glamorgan for a minimum of two seasons."
Earlier this week Western Australia coach Lachlan Stevens had said he was confident Hogan would see out his deal after three years at the WACA Ground.
"From our understanding from talking to Michael, it'll come down to him having to make a choice between Glamorgan and Western Australia," he said.
"He's got to come to a decision over the next couple of weeks - we're pretty confident he'll stay.
"There's some complex issues but it'd be a really good option for him to stay for 12 months.
"He's done a really good job for the Warriors and he'd certainly be a really good back-up bowler if Australia experienced troubles."