Bell - Rest is crucial
Ian Bell believes it is crucial the workload of England's key players is managed properly if the team are to beat Australia.
Last Updated: 20/06/12 5:42pm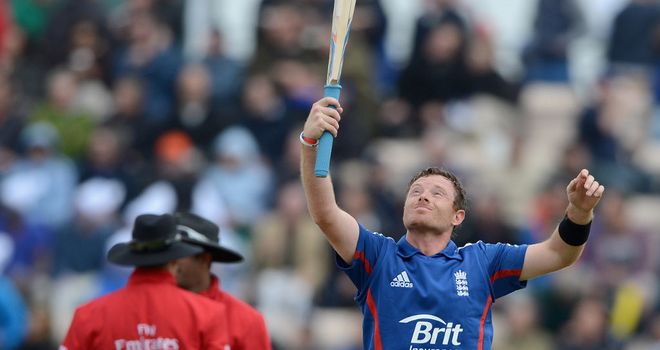 Ian Bell believes it is crucial the workload of England's key players is managed properly if the team are to beat Australia in the one-day series later this summer, however the Warwickshire man insists he will not be volunteering for a rest himself.
England's in-form one-day international opener backed the selectors' decision to rotate frontline bowlers Stuart Broad, Tim Bresnan and Graeme Swann for Friday's final NatWest Series match against West Indies at Headingley.
A second successive victory over the Windies at the Kia Oval wrapped-up the series with one match to spare on Tuesday, offering up the opportunity to rest England's key bowling trio.
Bell believes that it has to make sense to spare them another 100-over encounter - with five ODIs against Australia and then three Tests against world-beating England's nearest pursuers South Africa all to come in the next two months.
Short-changed
"There's a heavy schedule coming up. We need to look after these guys," said Bell, who has returned to the top of the 50-over order in Kevin Pietersen's absence.
"The key to our success in one-day cricket is having five out-and-out world-class bowlers.
"So if we want to beat the Australians, we want these guys fit and fresh and ready to go.
"For the three guys who play in all three forms of the game ... it's going to be crucial."
Bell acknowledges the argument of those who suggest the Headingley crowd may be short-changed by the non-appearance of Yorkshire all-rounder Bresnan in particular.
But he believes a balance is being struck, and that the absence of three big names is offset by the possible inclusion of likely stars of the future.
Young pace bowler Stuart Meaker and all-rounder Chris Woakes, along with off-spinner James Tredwell, have been called up to the squad in place of those who will sit out the third ODI.
Exciting
"There's this big series against Australia coming up, and South Africa after that," Bell added.
"It's a good option to let them have a bit of a breather - and it gives an opportunity to the likes of Meaker, Woakes and Tredwell.
"When I played for the Lions, Meaker is genuinely fast - so it will be exciting to see him have a go.
"Looking down the line, at World Cups and Champions Trophies, it's great to give these guys an opportunity and gain more experience."
What of those 15,000 supporters planning to watch at Leeds then?
"Of course, I have some sympathy," said Bell. "It has slightly weakened our attack, but I still think it is a team that can go out and beat West Indies.
"There's no doubt people want to come to see the Broads, (James) Andersons and Bresnans.
"But they will be seeing young, exciting guys who will be big players for England over the next few years."