Cook not looking to Ashes
Skipper Alastair Cook has rubbished claims the upcoming ODI series against Australia will have a bearing on the Ashes.
Last Updated: 23/06/12 9:42am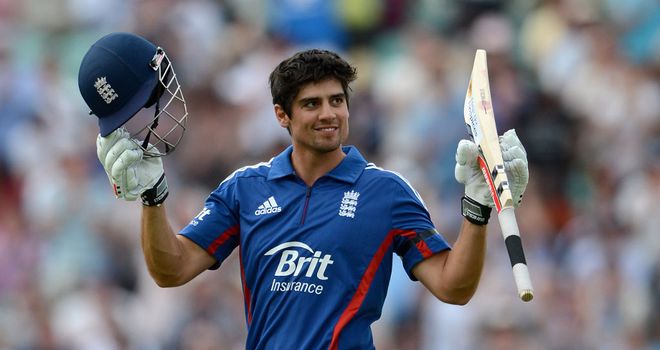 Skipper Alastair Cook has rubbished claims the upcoming ODI series against Australia will have a bearing on the Ashes.
After securing a 2-0 series success over the West Windies, England have now won all six of their 50-over matches this year and Australia, as the world's top-ranked ODI team and the last team to beat England in a series on these shores three years ago, will provide their sternest test yet.
"It is a big series for us as a one-day team," Cook said.
"Everyone will say it's a precursor (to the Ashes) but whatever happens in this series it's of no relevance to what will happen a year later. That's just the way it is.
"It will be great to see some new guys on their team, but it counts for little if you are comparing it to an Ashes."
Much-hyped
Australia will provide a sense of mystery when the five-match series begins at Lord's next Friday, with much-hyped young quicks Pat Cummins and James Pattinson set to be unveiled to the English public for the first time.
The Australian batting order is also in a state of transition after former skipper Ricky Ponting's decision to focus on Test cricket, while Mike Hussey was a late withdrawal due to family reasons.
Cook is set to get a first-hand view of the new-look Australia - who do still boast the likes of veteran quick Brett Lee - after indicating he was set to play for Essex in their floodlit match against the tourists at Chelmsford on Tuesday night.
Ravi Bopara is also likely to play in the game as he seeks time in the middle after recently returning from injury, while Ian Bell - also overlooked for the Twenty20 team - will look to continue his form with Warwickshire in their Wednesday night game.
Fret
Bell was named man of the series after proving England need not fret about Kevin Pietersen's retirement from the limited-overs formats.
The 30-year-old proved his suitability for the 50-over format with a stylish 126 on his recall in the opening game, but played down thoughts he had tied down the opener's role.
"It's nowhere near job done. For me it was nice to start well and obviously I want to keep playing and batting as much as I can with Cooky at the top of the order and keep trying to get us off to good starts," he said.
"If we can do that more often than not we've got that middle-order firepower to get the good scores.
"With good scores on the board we've already seen in this series, with five world-class bowlers, it's going to be hard to whack us around the pitch."