Hales hailed by Broad
Stuart Broad paid tribute to a "fantastic" innings from Alex Hales after England beat the West Indies in the only T20 at Trent Bridge.
Last Updated: 24/06/12 6:48pm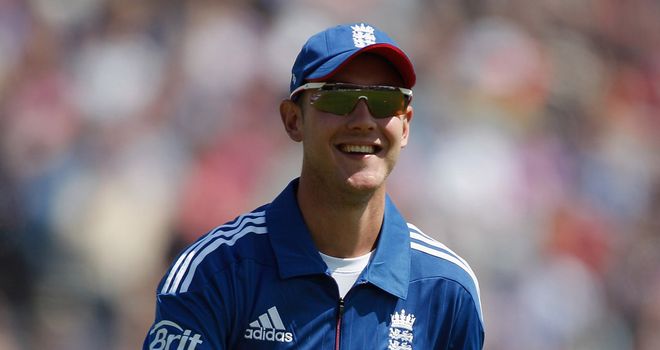 Captain Stuart Broad paid tribute to a "fantastic" innings from Alex Hales after England beat the West Indies by seven wickets in the NatWest International Twenty20 at Trent Bridge.
Hales fell one run short of a deserved century but still recorded the highest score by an England batsman in the 20-over format, while Ravi Bopara's 59 ensured the hosts bettered the Windies' total of 172-4.
Although Broad identified areas where his side could improve, he was quick to heap praise on the efforts of Hales.
"We did some really good things today. There are certain things we can improve on. West Indies hit it fantastically at the death," Broad told Sky Sports.
"It was a competitive score although the wicket was pretty good and we were always pretty confident we could chase that and the way Alex Hales batted was absolutely fantastic.
"He was pretty distraught not to get 100 and the 20-odd thousand in Trent Bridge would have felt the same."
Practice
Broad, who was celebrated his 26th birthday on Sunday, believes the poorer aspects of his side's performance could be attributed to lack of match practice.
He added: "Having not played Twenty20 cricket for a while, you expect to be a little bit rusty in the thinking, not so much the skills," he said.
"We didn't maybe didn't react as quickly as we could. But at the end of the day, 170 on what was a fantastic Trent Bridge wicket with a quick outfield, we were happy with."
Man-of-the-match Hales hopes his innings can be a launch-pad to greater things in an England shirt - especially following Kevin Pietersen's limited overs retirement.
"It is an opportunity. I'm happy with the way I played today but there's still a lot of cricket this season for Notts and hopefully I can keep myself in the frame for the next few games," Hales said.
"It's very mixed emotions to have not made the hundred. He (Ravi Rampaul) bowled the ball exactly where I wanted to I just missed it but I'm very happy with the 99 and for England to get the win."
Superior
West Indies captain Darren Sammy, who was also quick to pay tribute to Hales and Bopara, admitted the tourists had been beaten by a superior England outfit in every format.
"Hales and Bopara played really well in that middle," said Sammy, whose side lost both the Test and the one-day international series 2-0 before Sunday's defeat.
"We could have bowled better but that's just the summer we've been having. They put on a 150-run partnership and we needed to break it but we didn't.
"But they played really well. We just have to dust ourselves off and look forward to the series with New Zealand.
"Well played to the English team throughout this series, they've outplayed us in every department."