Bailey - Aussies still confident
Australia's George Bailey remains convinced England's chances of a 5-0 one-day series whitewash remain slim.
Last Updated: 04/07/12 6:07am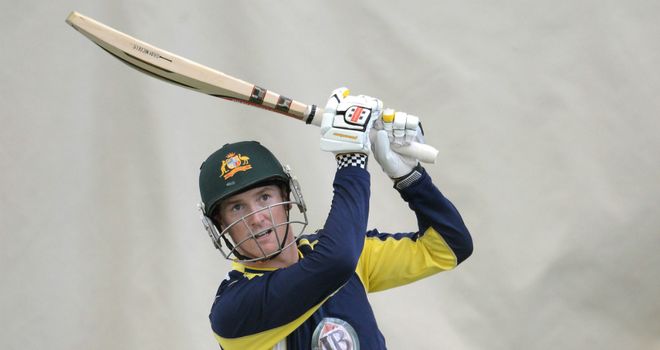 Australia are convinced England's chances of a 5-0 one-day series whitewash remain slim.
After defeats at Lord's and The Oval, the tourists must beat England at Edgbaston on Wednesday - unless bad weather intervenes - to keep the five-match one-day international series alive.
Michael Clarke's team retain faith in their own ability to stop England in their tracks, starting in Birmingham.
Their hosts would be inflicting a double-whammy on the old enemy, should they complete a clean sweep which would also see England depose Australia at the top of the International Cricket Council world rankings.
Difficult
Asked whether Australia are beginning to wonder whether England are on that sort of unstoppable charge, batsman George Bailey said: "I hope not.
"If we can play as well as we believe we can, and as well as we believe we should, then I think it will be very difficult for them to win 5-0."
Bailey scored a career-best 65, in his seventh ODI, but accepts he still needs to up his game after he and Shane Watson became bogged down against England's accurate attack in the 'middle overs' at The Oval.
"It's as much about the confidence as anything, and me backing myself a little bit more," said the 29-year-old Tasmanian.
"I appreciate it probably didn't look very good. But we were really clear in the plans we had in terms of keeping wickets in hand, but we just didn't execute it as well as we could have.
"I don't think a great deal has to change, probably just a bit more freeing up myself and a little better intent ... build those partnerships a little quicker, and then launch at the end."
Bailey also echoed his coach Mickey Arthur - that Australia may have to start imitating the methods of the opposition.
"It was difficult, weighing up the balance of trying to keep wickets in hand so that we could build a bit of a platform to go hard - which England have done really well," he said.
"That's one of the key points of England's success, certainly playing over here and with two new balls.
"That's probably been one of the differences between the sides, so you don't finish your innings seven or eight down and try to have recognised batsmen in at the end.
"You see the power of not losing too many wickets and then allowing your five, six and seven to come in and have that freedom.
"But there's a balance there, and it certainly wasn't good enough - (I) probably put too much pressure on 'Watto', and we slipped too far behind to allow that platform to be set."
Outplayed
England's team of specialists are more established than Australia's, but that does not mean Clarke's tourists cannot learn from them.
"We were outplayed in all three disciplines. So we'll certainly look to the way they play," added Bailey.
"They've got a really set structure, and each player knows his role really well - and they don't try to go outside of that.
"There are no secrets in the way they play. It's a really obvious gameplan, but they are executing it very well."
Australia are backing themselves to do likewise, from now on.
Bailey said: "We jumped on the bus yesterday, and one of the risks is after going 2-0 down it's a really quiet bus - after going 2-0 down - and there's that feeling of 'how are we going to come back?'.
"But the boys were still up. There's that belief that we certainly haven't played as well as we'd like to. If we start to lift our game, we can certainly challenge England and are alive in the series."