Australia summon Starc
Paceman Mitchell Starc has been drafted into Australia's squad for Tuesday's fifth and final one-dayer against England at Old Trafford.
Last Updated: 08/07/12 4:09pm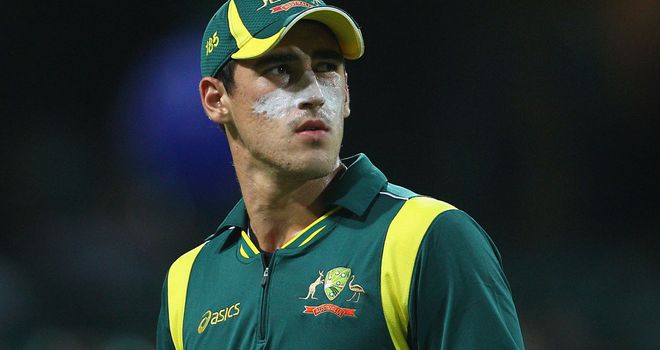 Mitchell Starc has been called up to Australia's squad for Tuesday's fifth and final one-day international against England at Old Trafford.
The left-arm quick has been drafted in after calf injuries to both fast bowler Brett Lee and seam bowling all-rounder Shane Watson in the thumping eight-wicket loss at the Riverside on Saturday.
Watson bowled just one over before leaving the field while Lee went off two balls into his second spell as Australia's latest heavy defeat gave England a series-winning 3-0 lead.
An Australia team spokesman said: "We have called up Mitchell Starc as cover because we are still assessing the two injured players."
Starc is already in England where he has been performing well for Yorkshire.
The 22-year-old, who is due to join up with Australia after playing for the Tykes in a domestic Twenty20 match on Sunday, has taken nine wickets in his seven one-day internationals at an average of just over 30 apiece.
His last ODI appearance was against India in Brisbane in February but he played the last of his four Tests to date against the West Indies in Roseau in April.
Clarke call
Meanwhile, skipper Michael Clarke has called for improvement after Australia's bowlers have managed a mere 11 wickets between them in the current one-day series against England.
"I'd like to see more of their (England's) batting order, that's for sure," said Clarke.
"We can't get through the top three or four at the moment. We haven't taken wickets - Clint McKay's been really our only wicket-taker. I don't care what form of the game it is, you've got to get blokes out.
"If you want to slow the scoring you take wickets - that's always been my attitude in any form of the game.
"It's been very disappointing that we haven't been able to bowl England out. Credit to them -- they've used the conditions better, bowled very consistent areas to build up pressure."