England confident over duo
England expect both Graeme Swann and Tim Bresnan to overcome elbow injuries in time to feature in the first Test against South Africa.
Last Updated: 11/07/12 10:34pm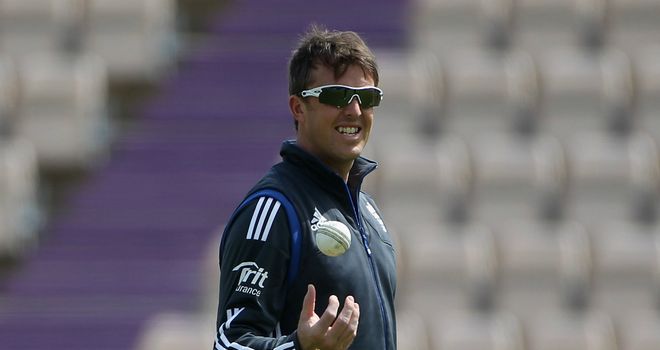 England are confident off-spinner Graeme Swann will overcome an elbow injury in time to play in the first Test against South Africa.
The 33-year-old has had a cortisone injection in his bowling arm and was rested for the final two matches of the recent one-day series with Australia.
Swann, who claimed 21 Test wickets in a hard-fought series draw in South Africa in 2009/10, has already undergone surgery on the joint in the past.
However team director Andy Flower expects both Swann and seamer Tim Bresnan - also rested from the final match of England's 4-0 series victory over Australia, because of an elbow niggle - to be ready to play at the Oval.
Management
He nonetheless acknowledges both conditions will continue to need careful management, and hinted further rest periods may be likely to try to prolong Swann's career in all three formats of the game.
"Swann has a cortisone injection in his elbow - and with the combination of rest and the injection, he should be fit for the Test," said Flower.
"They have had these ongoing elbow problems, both Swann and Bresnan.
"Our medical staff believe they will be fit and available for selection for the first Test.
"But it's a strenuous exercise, being a bowler playing international cricket.
"They play all three forms of the game. So that's why Swann missed a big part of the one-day series and why we rested Bresnan on occasion."
Bresnan underwent elbow surgery late last year before having to pull out of the Test series defeat against Pakistan in the United Arab Emirates.
As for Swann, Flower agrees his presence is a pivotal for England as they bid to hold off the Proteas and retain their status at the top of the Test rankings.
"Absolutely - but there will be opportunities for youngsters when we rest Swann," the Zimbabwean said.
"He can't go on forever. There'll be some opportunities for others in the international game."
Rest
Swann and Bresnan, like the rest of the candidates to form England's bowling attack against South Africa, have been prescribed rest rather than action in the build up to the series opener, which is live on Sky Sports.
Flower would have liked some of the batsmen to have had the chance to play in the LV= County Championship beforehand, though that simply wasn't possible due to the first Test being so soon after the one-dayers.
"It would have been nice to get a chance. But in most cases that's proved particularly awkward, and that is a pity," he said.
"However, the guys have been playing a lot of cricket this summer and are used to switching from one to the other, and most of them will have a little bit of time off. Ultimately it's our decision whether they play or not.
"A lot of them are very experienced national cricketers, but sometimes what a player wants and what a player needs are different things."