De Villiers happy to take gloves
AB de Villiers would relish the chance to keep wicket in Mark Boucher's absence but accepts South Africa's preparations have not been ideal.
Last Updated: 16/07/12 1:38pm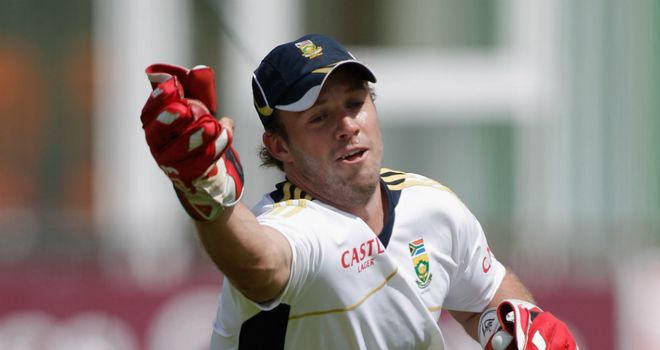 AB de Villiers accepts South Africa's preparation for their Test series in England has not been ideal.
The Proteas, who will overtake England for top spot in the rankings with a series win, last played Test cricket on their tour of New Zealand in March.
The tourists scheduled just two warm-up games before the series opener at the Oval on July 19.
They drew with Somerset at Taunton and take on Kent at Canterbury over three days, starting on Friday.
When asked on Sky Sports News if South Africa were coming into the three-match series undercooked, De Villiers replied: "Maybe, but I think it's what you make of it.
"If anything, I'd like our bowlers to get through a few overs. For batters, it's a massive mental game, you've just got to brainwash yourself into believing you are in good form. That's always what I believe.
"Maybe we are a bit undercooked and maybe we would have liked a couple of Tests against whoever coming into the series but you have to take what you can get and believe you're in good form. That is what will happen."
Keeper?
De Villiers will keep wicket in the tour match against Kent after Mark Boucher was forced to fly home and call time on his international career due to a serious eye injury suffered when he was hit by a bail against Somerset.
South Africa have called up a replacement wicketkeeper in Thami Tsolekile, who last played Test cricket in 2004.
But De Villiers, who captains and keeps wicket for his country in limited-overs cricket, is likely to take the gloves for the first Test.
"I'm going to take the gloves for the three-day game against Kent and we'll see where we go from there," he said.
"We are still deciding on the tactics against the English side.
"I'm very excited about it. I've always been up for challenges, whatever is best for the team.
"Maybe it is that I take the gloves, we'll see.
"I don't think that would leave us with a bad balance to the side, it opens a spot for an extra bowler or batsman.
"It's nice for the selection panel, coach and captain to have that extra batter or bowler in the team.
"I've really been enjoying my keeping. I kept throughout the whole IPL and for the Proteas T20 and ODI sides and feel I am improving.
"It's a great challenge for me and hopefully I'll have a good series if I take the gloves."
Respect
De Villiers is expecting a tough series, particularly for the batsmen on both sides.
"Both batting line-ups will be under a bit of pressure in the series, England and South Africa have two of the best bowling attacks in the world I believe," added De Villiers.
"I have lots of respect for the English team and what they have achieved over the last few years. Andrew Strauss and Mr Flower have done an amazing job.
"As a Proteas side we really respect what they've achieved and know it will be a hard-fought series.
"But we are looking forward to the challenge. We know top spot is up for grabs and to achieve something like that would be great.
"We'll go in all guns blazing and hopefully come out on top."