Amla relishing challenge
Hashim Amla is predicting an exciting series as South Africa get set to take on England.
Last Updated: 14/07/12 12:01pm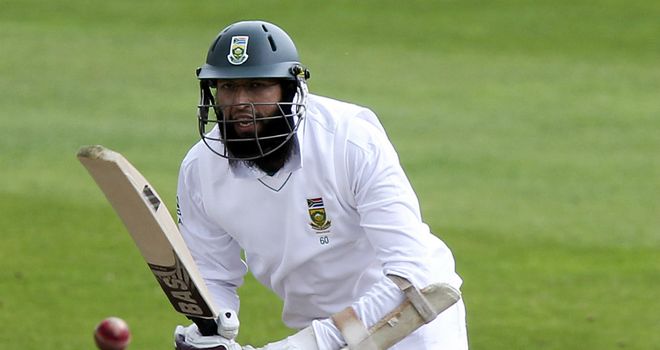 Hashim Amla is predicting an exciting series as South Africa get set to take on England.
The three-Test series begins at The Oval next week with South Africa having the opportunity to usurp England's world Test number one status.
It is a contest Amla is very much looking forward to.
"Both teams are well-matched," he said. "I'm expecting it to be a good, very exciting series with a lot to play for from the rankings perspective.
"If we play our best cricket, the results will probably take care of themselves."
The key for Amla, in a series many expect to be dominated by two powerful pace attacks, is resisting for as long as possible - and nicking some runs along the way.
"We get to face some serious bowlers in our net sessions, so I think most of the guys are well-prepared in that respect," he said.
"We've played against most of the players anyway, so we're just going to try to keep things simple and enjoy the challenge. That's the beauty of a tour like this.
"A lot of our batters have played here before, have played county cricket, so this is not foreign territory for us.
"A lot of emphasis has been placed on the bowling attacks, but we've also got to score runs."
Payback
South Africa could be forgiven for eyeing a little payback as England secured a hard-fought 1-1 series draw the last time they played the Proteas.
But that tells only half the tale of a campaign in which both teams scored one landslide victory, but the hosts twice had England on the ropes only to fail to take the final wicket at Centurion and then again in Cape Town.
South Africa then finished with all the momentum thanks to an innings victory in Johannesburg.
Yet Amla insists he and his team-mates do not begin this summer harking back to what happened two years ago.
"I don't think any guys have really hung on to that," he said. "It was a very good series - 1-1 - and we were very close to winning those two other Test matches.
"But that's gone, man. None of our guys are contemplating that we have to get one over on the English because of that 1-1 draw.
"That's two years ago. So much has changed in our team and England's."