Steyn eyeing scary scalps
Dale Steyn is looking to terrify English batsmen this summer and fire South Africa to the top of the world Test rankings.
Last Updated: 14/07/12 6:51pm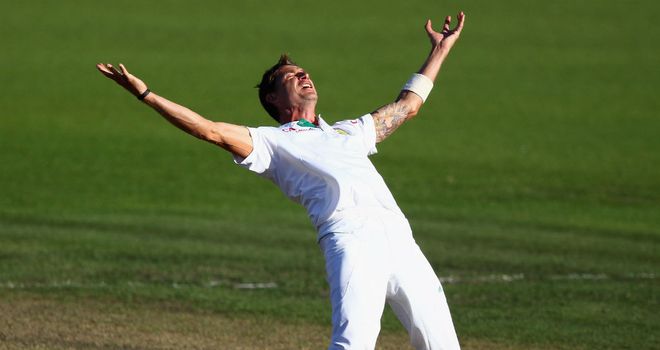 South Africa fast bowler Dale Steyn is looking to terrify English batsmen this summer and fire the Proteas to the top of the world Test rankings.
Ahead of the three-Test series, the 29-year-old is officially the world's number one bowler according to the International Cricket Council.
But his country were demoted to third behind England and Australia in Saturday's update of the rankings and Steyn is determined to do all he can to make the Proteas as successful as possible.
He said: "I'm trying to be the fastest bowler South Africa has when we walk out on to the field - that's my job.
"I think there's times when I can bowl as quick as anybody in the world, but I just want to take wickets - and I want to scare the s*** out of people."
Steyn is not averse to a little sledging either, but only if he thinks it will help give him and South Africa gain an edge.
"I try and let the ball do most of the talking," he said. "However, I am a fast bowler and with that comes a responsibility of saying a word or two, and sometimes getting in a guy's face.
"It can not only send shivers down the opposition's spine but it also gets your team up and bouncing around.
"When a captain sees a bowler really getting at a batter, it forces the team to go along with him in the battle."
Good work-out
Steyn and his team-mates had a good work-out in Canterbury on Friday, bowling Kent out for 210 on a slow pitch, before forecast rain washed out all but 22 overs on Saturday and restricted South Africa's reply to 108-2.
He may well have another chance to fine-tune his rhythm on the final day on Sunday, depending on whether South Africa decide batsmen or bowlers will benefit most from one more opportunity for match practice before the first Test starts at the Oval on Thursday.
Whenever he is unleashed again, Steyn will bowl as ever with the venom of an instinctive and lifelong aggressor.
"When I was 13 I always wanted to be part of a cricket team that was the number one in the world; I always wanted to be the number one bowler; I always wanted to be the fastest runner around my house with my mate - and I always wanted to beat him," he continued.
"I wanted to embarrass him, in all honesty - that's how much I wanted to beat him.
"In a small way it's that motivation I need - to know when my team-mates come up to me and say 'you're not number one in the world for nothing'.
"That's something that makes me bowl that extra over, maybe bowl a yard quicker."
When asked about his team's position on the world rankings, he added: "I don't worry about England ... that's why we're the number one Test team in my eyes.
"I think we've got all the players; we cover all our bases. Is there something wrong with me thinking we're the best team in the world?"