Bell up for the fight
Ian Bell insists England will "scrap" for every run and wicket to stop South Africa taking away their world number one Test status.
Last Updated: 25/07/12 9:36am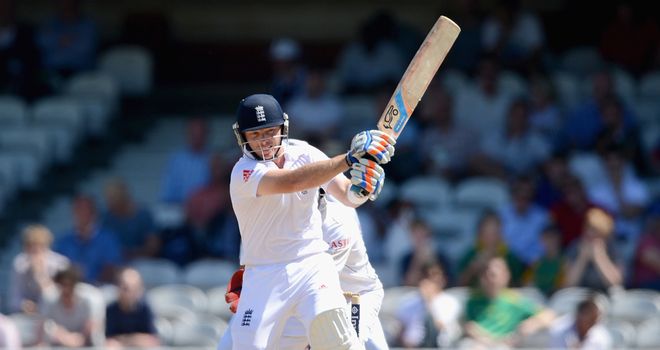 Ian Bell insists England will "scrap" for every run and wicket to stop South Africa taking away their world number one Test status.
The Proteas are one Test victory away from replacing England at the summit of the ICC Test rankings following their stunning innings and 12-run triumph in the first Test at the Oval on Monday.
After exchanging honest opinions on where things had gone so badly wrong in south London, Bell and his team-mates now have their sights set on hitting back hard at Headingley on Thursday week.
"In a way, this match has forced our hand," he said. "In the next two Tests, we have to go out and fight for every single run and wicket and try to hold on to number one.
Desperate
"There's no doubt, when you see how South Africa played, we're going to have a real scrap on our hands.
"We're all very proud that we've got to number one, and we definitely want to stay there for a long period of time."
Reflecting on England's fifth defeat in their last nine Tests, and the emphatic manner of South Africa's success - in which the hosts could take only two wickets, at the cost of 637 runs, in 189 overs - Bell conceded it may be a case of opponents supremely motivated to try to knock him and his colleagues off their perch.
"It proves to us that, no matter where you are ranked, you have to keep performing," he added.
"Opposing teams see us a bit differently now. Maybe they turn up desperately wanting to beat us, because we are ranked number one - and we have to react to that."
Whatever the rationale, the bottom line is that England were outplayed - a fact acknowledged by captain Andrew Strauss, and echoed by Bell.
The middle-order batsman is nonetheless convinced of the team's ability to beat South Africa both in Leeds and in the third Test at Lord's.
They will accept responsibility for a below-par performance, give due credit to the victors - and wipe the slate clean before heading north.
Potent
"We know this defeat wasn't good enough," said Bell.
"But we're confident we can get back in the series. We start on nought at Headingley - the scoreboard starts again.
"There's no doubt that, if we play the cricket we know we can, we can beat South Africa.
"If we don't, we know how good they are - and they won't let us back in the game."
As well as a previously potent attack, adept at taking 20 wickets in varied conditions, and ultra-reliable batting order, England have another major asset.
Bell sees coach Andy Flower as a trump card, a motivator who will not permit lame excuses but will galvanise collective and individual will.
"Andy Flower will want everyone to scratch their minds and work out how they can improve - that's why he is such a great coach," he said.