Kirsten - We respect England
South Africa coach Gary Kirsten insists he and his players will not take anything for granted when they line up at Lord's.
Last Updated: 13/08/12 3:58pm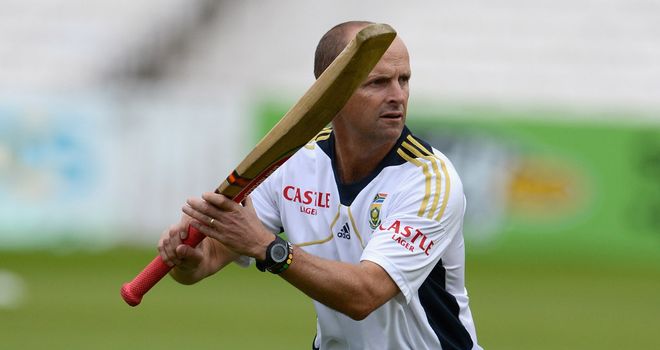 South Africa coach Gary Kirsten insists he and his players will not take anything for granted when they line up at Lord's to face an England side which will not feature Kevin Pietersen.
Pietersen has been left out of the England squad for the final Test after failing to reveal the contents of text messages sent to South African players during the drawn second match at Headingley.
Inexperienced Yorkshire batsman Jonny Bairstow has been called-up in place of the dangerous right-hander for a match the hosts must win to preserve their No.1 ranking in the longest format.
Kirsten refused to take any questions on the Pietersen situation, preferring to focus on his own side's preparations for the Test finale.
Importance
He said: "We will focus on our preparation and the work that we do. We respect our opposition, we understand that we are playing against quality opposition, we'll never take any Test match for granted.
"We'll go about our work internally to make sure we are up for this Test match and we'll do the preparation necessary to look at the opposition and what they've got in their team and how we can exploit certain areas and take it from there.
"We don't really focus heavily on individuals, we look at their team make-up and we won't do anything different to a normal Test match.
"Way back in August last year we put a peg in the ground and said we wanted to become the best cricket team in the world in all forms of the game.
"Some people say we are not sure about the rankings, does it hold any water? But deep down every team aspires to it. They like to know they are number one in those rankings.
"We certainly take it with importance."
South Africa's team manager Dr Mohammed Moosajee confirmed that no formal approach has been made by the England and Wales Cricket Board to see Pietersen's infamous text messages.
The ECB had told Pietersen his selection was dependant on him confirming publicly that no derogatory texts about his team-mates had been sent to South African players, or if they had been sent, to apologise for them.
In a prepared statement, Moosajee insisted the messages contained nothing more than "banter" and he refuted suggestions they were sent to Dale Steyn and AB de Villiers.
Allegations
Moosajee said: "There has been untruthful allegations in the media implicating members of our squad in the current issue between Kevin Pietersen and the ECB," Moosajee said.
"We stand by the same stance we have taken since we heard the news about these allegations.
"Yes, text messages were sent but like we said before it was banter among team-mates, which is perfectly acceptable.
"The ECB has not made a formal approach to myself or any member of the team to see the text messages, as currently reported in the media.
"Allegations that Dale Steyn and AB de Villiers were the recipients of the texts are unfounded. Until such time that the allegations are met with the correct facts and evidence, we shall not comment.
"The internal issue between Kevin Pietersen and the English cricket board has been publicised for weeks, even before we arrived in the UK and we dont want to get ourselves involved in an issue that has nothing to do with us."