Misbah - Pakistan fired up
Pakistan captain Misbah-ul-Haq believes his colleagues will be extra motivated to win against Australia.
Last Updated: 27/08/12 4:19pm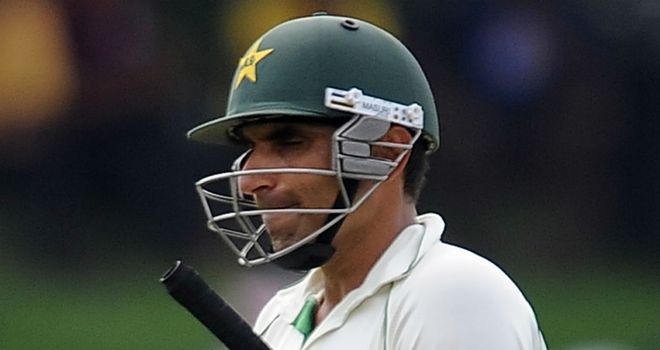 Pakistan captain Misbah-ul-Haq is determined to end his country's 10-year wait for a series win over Australia.
The two teams meet in a three-match one-day series, starting in Sharjah on Tuesday, followed by the same number of Twenty20 internationals.
Misbah said his team will make an extra effort to register a series win which has eluded them since Pakistan's 2-1 triumph in Australia in 2002.
"Of course, whenever there is such a thing it charges the team in an extra way, its needs an extra effort to combine and beat an opponent who we have not beaten for some time," he said.
Pakistan have only two survivors in Shahid Afridi and Shoaib Malik from the team which beat Australia 10 years ago and he insists Michael Clarke's men will be as tough as ever.
"Australia are one of the top teams, it's difficult to beat them because they are a fighting team in any conditions of the world," he continued.
Difficult
"They have good players who put up the best fight and they are a difficult opponent
"I don't think we will only rely on spinners, we have to bat well and fast bowlers are very important for us because the ball reverse swings in Sharjah."
Australian pacemen grabbed nine of the 10 wickets during their 66-run win against Afghanistan in the first match between the two countries here on Saturday.
Misbah knows it will be important for Pakistan to win after losing their last two one-day series, 3-1 in Sri Lanka and 4-1 against England in the Middle East.
"I think it's important for both the teams also for Australia," he concluded about his opponents who lost 4-0 to England in July.
"For us it is very important because after this is the World T20, we couldn't give the kind of performance that we wanted in the last two series, so it's a good chance for us to stage a comeback."