Leaving it all behind
Bumble blogs on Andrew Strauss the golfer, a new era of cricket kit and Nasser's Hussain's rear.
Last Updated: 30/08/12 5:08pm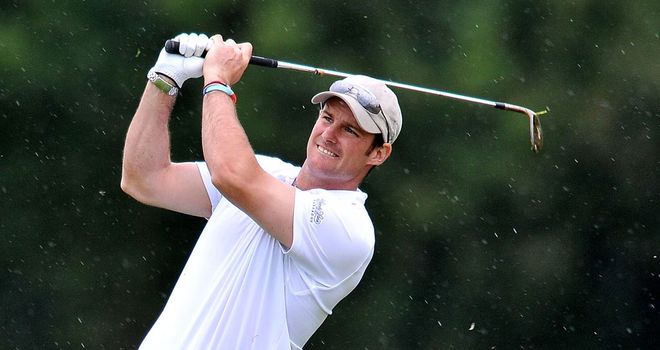 Did anyone else see Andrew Strauss' departure coming?
I had an inkling after the last Test against South Africa when I spotted the poor lad isolated on the balcony at Lord's. He ran his hand through his hair (or what hair he has) and I thought 'he's going to retire'. I've seen that look before.
I knew exactly what he meant in his retirement press conference when he said he woke up and knew that was it - and to be honest I'm really pleased for him.
He's well-respected worldwide, he's given everything that he possibly could have, he hasn't stayed longer than he should have and he leaves with the affection of the English cricket supporters in particular.
There's nobody out there who'll have a bad word to say about him.
Best
There comes a time in everyone's life when you can't do what you want to. Trust me, I know!
I've played two games of cricket this season and I know what I should be doing but it doesn't happen. Strauss knew that his time has come and for the record I don't think the Kevin Pietersen saga had anything to do with his decision.
The best thing about Strauss standing down is the timing: it comes after his 100th Test which was also the 50th occasion that he has captained his country. Plus, it was at Lord's.
He's scored 21 centuries and been on the winning side in three Ashes, two of them as captain. It doesn't get any better than that.
We can be a fickle lot in British sport and if things carried on the way they've gone this summer, it wouldn't be long until he'd outstayed his welcome.
Strauss said that he might spend some time now working on his golf handicap.
Now, I've never played with him but I've heard enough to sum up his golf in one word: Mexico.
I'm told that he's miles better than he lets on - and he's very good anyway. Strauss has a very nice handicap thank you very much and is right up there with the likes of Ricky Ponting, Paul Collingwood and Greg Blewett.
Stop
I was rested for the second ODI at The Ageas Bowl (strength and conditioning) but I hear England were once again second best to South Africa.
They've got to come back pretty quickly because the batting failings of old were all too evident - get in, get out.
I'll be back for Friday's game at the Oval and I'll definitely have my eye on the increasingly common practice of batsmen scoring huge runs but then not fielding.
I'm not picking on any one player or mentioning any names - but I will say it again, this is becoming common practice and it has to stop. This will stop.
I'll also be looking out for bowlers who bowl a spell and then leave the field for a shower, a drink and a rest and are replaced by a substitute who happens to be a fantastic fielder.
Mark my words - that will stop too. I'm certain the ICC will clampdown on it because it gives one side an unfair advantage over another, which is not what it's all about.
They could well come up with something like 'yes, you can go off the field but you can't have a substitute for 15 minutes'. That should determine whether the player is injured or not. If so, then you can have a substitute.
Kit
I went to a preview of Adidas kit last night in the museum at Lord's and I was like a kid in a sweet shop. There were hundreds of bats, gloves and pads and I was staggered at how light all the gear is these days. It's miles better than what we had!
I looked at the amount of wood that was in the bats and thought 'this is going to be like a railway sleeper, this' but they picked up absolutely beautifully. A lot of the grips are now rippled - another change from the old days - and you can really get hold of them. It's no wonder that the top players can launch the ball with this type of kit, which is great.
You can slip a pair of pads on in a matter of seconds now - there's no longer any need to start getting ready two wickets out!
I was fascinated by it all and managed to bore the fella who made the bats rigid! He cleared off in the end. He gave it one of them - 'I've got to go and have a word with...' and left me stood there.
In the museum (pop along if you can) there were a pair of boots that belonged to Don Bradman that make Stuart Broad's bowling boots look like slippers! You've never seen anything like them. If anything they're made for yomping - they've got a bit steel toe cap and look so heavy, whereas the modern 'boot' is as light as a feather with lots of support strapping.
Cycled
One final thing...
I hear Mr Nasser Hussain accused me of making him do all the work when we arrived at T20 Finals Day on a tandem.
I've never been on a tandem before, which I'm sure was very apparent and I can't see the point of them to be honest.
Athers, of course, took to his bike like a duck to water - no doubt reminded of his Cambridge days when he cycled off for a bit of punting with a French loaf and a bit of pate in his basket.
But it's not for me. Staring at Hussain's backside is not my idea of an enjoyable ride...!