McGrath admits promotion 'relief'
Anthony McGrath has spoken of his relief to have helped Yorkshrie achieve promotion back to Division One of the County Championship.
Last Updated: 13/09/12 8:35pm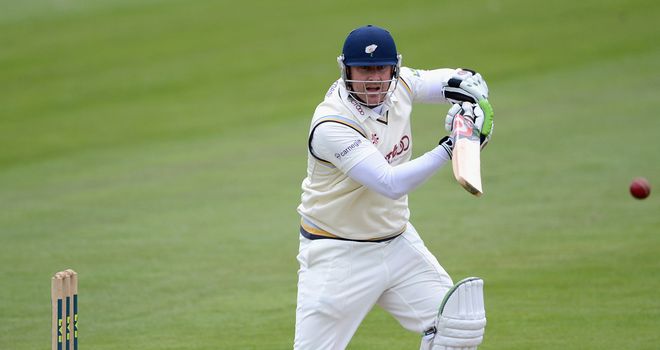 Yorkshire all-rounder Anthony McGrath has spoken of his relief to have helped the club achieve their "number one priority" for 2012, returning to Division One of the LV= County Championship.
After suffering relegation from the top-flight last summer, the White Rose county made sure their stay in Division Two was a brief one by clinching promotion in this season's final round of fixtures.
Kent, the only team capable of catching Yorkshire heading into the season finale, crashed to a seven-wicket defeat at Glamorgan on day three, meaning Yorkshire and Derbyshire will be playing Division One cricket next term.
Speaking to Sky Sports News Radio shortly after helping Yorkshire secure a top-two finish, McGrath, who made 68 on day three of his side's ongoing fixture with Essex, said: "I's a nice feeling to be back in Division One. Obviously we can't do too much celebrating because we've still got a game to win down here and hopefully we can go up as champions.
Dramatic
"(Promotion) was our No.1 priority. Last season we didn't play very well, we let ourselves down, it was well-documented and the club and supporters weren't very happy.
"We wanted to come back with a vengeance, I think we've done that. We've played some really good cricket and hopefully we can top it off with finishing top of the pile."
Promotion looked unlikely for Yorkshire after wet weather wreaked havoc with their fixtures in the early stages of the season.
However, a dramatic two-wicket win against Gloucestershire at Scarborough - in which McGrath struck an unbeaten 76 - sparked a late push for promotion.
McGrath added: "We've had so many rain interruptions, three/four games in it looked as though we may struggled to finish in the top two.
"We managed to get a win against at Gloucester at Scarborough, beat Glamorgan last week and that's put us in pole position and the Kent result today.
"It's been a terrible season in terms of the weather but we're just all relieved to be back in Division 1 and have that status back."
Click HERE for Sky Sports News Radio's full audio interview with Anthony McGrath.