Cricket Expert & Columnist
England 'do need KP '
Nasser Hussain says that the sooner Kevin Pietersen returns to the England squad the better.
Last Updated: 18/09/12 12:58pm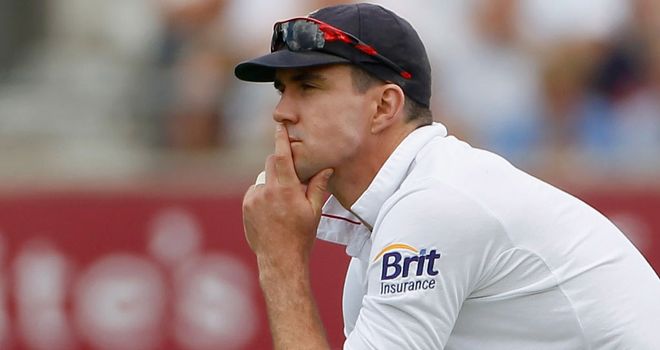 Kevin Pietersen's omission from England's squad to tour India this winter is certainly a shame.
When you tour any country, but in particular India, you want your best cricketers, your best players of spin, going and Pietersen fits both those categories.
He is a phenomenal player of spin. Sometimes he has an issue with left-arm spin but if you want a counter-attacking batsman there are few better.
So the Indian team will be a lot happier today knowing that Kevin Pietersen is not going to be playing. I'm in no doubt England are weaker but most of the making of that has come from him. He has made some horrendous errors in the last six months and he is now paying the price.
The lads that have come in, in whatever form of the game, have done well. In the 50 overs format Ian Bell came in and did brilliantly in his position at the top; Jonny Bairstow did brilliantly at Test level coming into the middle-order at Lord's and even the likes of Alex Hales and Jos Butler have come into the Twenty20 side and done really well. So the game moves on very quickly. I just hope it won't move on without Pietersen indefinitely.
As much as England need Pietersen, the reverse is the same too.
Make no mistake - he needs all the deals and contracts - not to mention the rhythm of batting - that comes with being an England cricketer on top of your form in all formats of game, Test matches in particular.
There are signs that he has kissed and made up a little bit with the hierarchy but it is just a little too soon for them. There is still a lot of bad feeling from within the team towards him.
Good men
Pietersen is a phenomenal talent but he has got to adhere to what Alastair Cook and Andy Flower want; he has got to buy into everything the team is trying to achieve.
They are good men and what they do is for the good of English cricket. If they feel that for a little while it is best for Pietersen to stay on the sideline then I would have to agree with them.
Not everybody has to like each other within the dressing room. I have played in teams when that wasn't the case. I was brought up in the Essex dressing room: a place where if you had any problems you got it out of your system. There was no backstabbing. You have a chat in the open and you move on. If Pietersen comes back, be it in six months or however long, they are going to have the same issues so for me may be it is a case of the sooner the better. Just get on with it.
I haven't got a problem with Pietersen is doing punditry work during the World Twenty20, he has not been picked and he is a free man. I just hope England call his bluff a bit because a lot of this has to do with the Indian Premier League.
Pietersen was almost looking for a way to get out of being an England player so that he could go off and play IPL cricket. He has probably got that opportunity now so England could bring him back into the side for the first Test against New Zealand next summer and call his bluff, saying to him 'which is more important to you, the $2m for the IPL or playing for England?'
Newcomers
For inspiration and confidence the newcomers to the touring squad, Joe Root and Nick Compton, only have to look at their captain, Alastair Cook.
He was called up from an A tour to go to Nagpur all those years ago and no-one had really heard of him. He came in and got a hundred on debut in India, which is not easy. So both Root and Compton have to look at their skipper and think, 'if he can do it and go on to the career he has since, I can do it'.
There is some talk about Root being introduced too early but I met up with Graham Thorpe a year ago and he was telling me about Root. He was in charge of the younger players and he said the one to look out for is Root. He has played well this year without setting the world on fire: he averages about 40 in division two. But statistics are not the be all and end all. He catches people's eye and I wish him well.
Compton is at the other end of the spectrum. He has set the world alight. He averages 99 in first-class cricket, although some of it has been at Taunton, in the first division so he can obviously play.