Wright keeps his focus
Luke Wright insists England have not been distracted by the ongoing Kevin Pietersen controversy ahead of the World Twenty20.
Last Updated: 18/09/12 1:56pm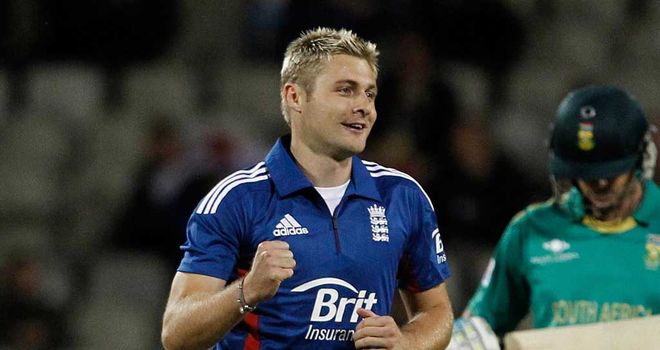 Luke Wright insists England must ignore any uncertainty over Kevin Pietersen's international future and focus solely on retaining the ICC World Twenty20 title.
The Pietersen controversy continued on Tuesday when he was left out of England's Test tour to face India this winter - the latest indication that he faces a long road back if he is ever play for his adopted country again
England will now attempt to defend the World Twenty20 without their leading runscorer in the shortest format and Wright believes the squad must stay full focused on the job in hand.
"As much as everyone else can talk about it, we are purely focusing on what we have in the dressing room," said the batting all-rounder, who made 35 from number three in England's opening warm-up win over Australia.
Wright can expect to be back in the thick of the action again on Wednesday when England complete their practice campaign with a match against Pakistan at the P Sara Oval.
He knows he cannot afford to spend any time between now and then wondering what Pietersen might be doing.
"I'm just trying to think how I'm going to score runs out here and focus on what I'm doing," said Wright.
"If I start worrying about people who aren't here, that's only going to put us in bad stead for the rest of the competition."
Pietersen is in Colombo as a television pundit and wasted no time making sure everyone knew this morning when he tweeted a picture of the view from his hotel balcony.
Wright and his team-mates, meanwhile, have the ball - not the sea - in their sights.
He certainly does not feel extra pressure because some may perceive he must make the runs Pietersen might have.
Anyone
"No one knows who's been picked for that person; it could have been anyone," Wright said, adding England's win in the Caribbean two years ago - their first International Cricket Council global trophy - has helped to build their self-belief that they can beat the world again.
"I think it got the monkey off our back.
"We'd never won an ICC tournament up to that point so there was that pressure and doubt that we'd never done it before.
"That's obviously helped, but we all start at zero again now.
"Everyone knows we can do it now which does make a huge difference. Now it's about going out there and doing it."
They began well against Australia.
"It was a great test for us, getting used to conditions," added Wright.
"It's all building the confidence and we hope we can do that again tomorrow against Pakistan.
"If we can win games like that, it gives us more confidence that we can do it against these sides in their sort of conditions.
"In these warm-ups, you don't want it too easy. You want a tight game because you want to be put under pressure.
"Australia definitely did that to us - (Michael) Hussey batted brilliantly.
"But credit to our bowlers. At one point it looked as if they were going to get the win against us, but the lads at the 'death' bowled brilliantly."
No mugs
After Pakistan, England's first Group A match against Afghanistan is on Friday, and Wright stresses they will not take the minnows lightly.
"We know they're no mugs at all. They're going to be a tough task," he said.
"I've spoken to (Ireland and Sussex batsman) Ed Joyce about them, and he gives them a lot of praise and says how tough they are.
"A lot of the other teams have spoken about how dangerous they are with big hitters all the way down to eight and nine.
"But we have the talent there. It's just about everyone playing well at the right times."
As for his own future, Wright is banking on making the most of his return to international colours and will not swap an England future, as Pietersen may yet have to, for one in the Indian Premier League.
"England is always going to be my main priority," he said.
"People ask about the IPL. But fingers crossed, I can't be going to the IPL; I'll be with the England side.
"I've experienced for a year what it's like to be out of the team - and this is the only place to be, that's for sure."