Ireland struck by sickness
Ireland are dealing with an outbreak of illness in the camp on the eve of their do-or-die World Twenty20 meeting with West Indies.
Last Updated: 23/09/12 4:23pm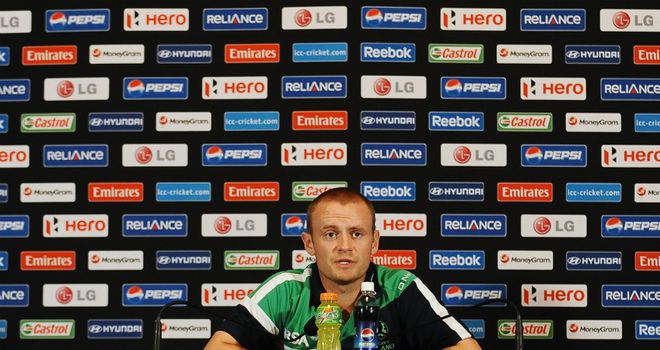 Ireland have been struck by illness in the camp on the eve of their do-or-die World Twenty20 meeting with West Indies.
Captain William Porterfield confirmed several players were unwell but insisted the outbreak did not spell the end to Irish hopes of reaching the Super Eights stage in Sri Lanka.
"A few lads have gone down with upset stomachs," Porterfield said.
"As long as everyone wakes up well tomorrow morning hopefully we'll have a full squad to pick from."
Destructive
Ireland were continuing to plot their game plan for the Group B clash in Colombo, when both sides will be looking to recover from opening defeats by Australia.
With the likes of big-hitting opener Chris Gayle so potentially dangerous, Porterfield acknowledges the importance of Ireland getting off to a good start.
Gayle cracked a rapid half-century in the loss to Australia on Saturday, which came by the Duckworth-Lewis method after rain brought an early end to play.
"They can be very destructive but they've got the capability of getting out as well," Porterfield said.
"So we'll be looking to put pressure on them and the first six overs with bat and ball are going to be a crucial part of the game.
"If you can restrict them in those first six overs and obviously pick up a few wickets and get a bit of a start ourselves that'll be key to the game really."
Porterfield's fellow batsman Niall O'Brien also put emphasis on the threat posed by veteran Gayle.
"Hopefully one of the main bowlers can take a scalp early," O'Brien said.
"He's obviously a fine player but he's human and he can make a mistake.
"We need to make sure we take a chance when it comes."
Pressure
O'Brien is convinced Ireland, coached by former West Indies batsman Phil Simmons, will forget about any lingering sickness once the match gets under way.
He said: "It's not ideal whatsoever but it's happened before. From a personal point of view I've been sick (in the past) and you sometimes find a bit of resolve, and that's something Phil will be trying to stress on the players who are sick.
"But it's a Twenty20 and there's a lot of adrenaline, so hopefully they will overcome any illness in the camp."
O'Brien reported that Australia's success lifted Ireland's spirits as it sets up Monday's match perfectly, the winner certain to go forward to the next stage.
"That was a great result for us and gave up a bit of a pick-me-up if we needed it before tomorrow's game," O'Brien said.
"But it's winner-takes-all and the West Indies are going to feel a bit of pressure also.
"I think the boys are up for it. We'll get among the big crowd tomorrow and we need to pick it up by 15 to 20 per cent, and hopefully that'll be good enough for a win."