A spin on things
Michael Atherton says a "worrying pattern" has emerged for England's batsmen when playing spin.
Last Updated: 23/09/12 7:10pm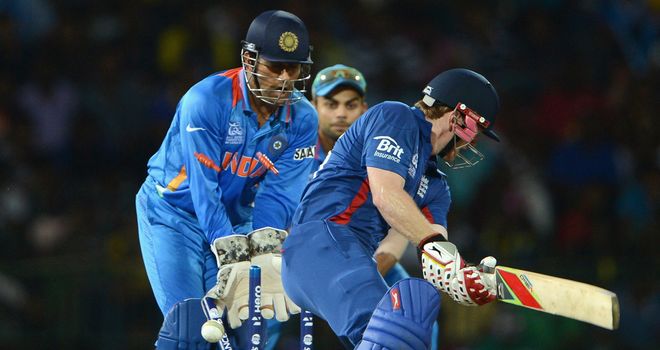 Michael Atherton says a "worrying pattern" has emerged for England's batsmen when it comes to playing spin in one-day cricket.
The Sky Sports pundit was speaking after Stuart Broad's side suffered their heaviest ever Twenty20 international defeat, succumbing to India by 90 runs in Sunday's dead rubber in Colombo.
Harbhajan Singh and Piyush Chawla were the main architects of their downfall as the two spinners combined for figures of 6/25 against England's hapless batsmen.
And Atherton is concerned that the difficulties against spin have been evident for some time now.
"It's becoming a worrying pattern now," he told Sky Sports.
"There was today, the warm-up game against Pakistan when we were bowled out for 111 by the spinners and you go back to the match at the Emirates against South Africa when they came unstuck against spin.
"You then go further back in 50-over cricket when they went to India and got whitewashed there. It's not the first time England have struggled against spin.
"The really worrying statistic - and there were many of them today - is that there were 52 dot balls in just over 14 overs. That's nine overs of dot balls in 14 overs!
"You then look at the figures combined of Harbhajan Singh (4/12) and Piyush Chawla (2/13) with three wicket maidens amongst that.
"Whichever way you look at it, I think it points to the fact that England struggled against spin today!"
Speaks
Broad was questioned about the issue in his post-match interview and insisted he's not concerned about the ability of his side to play spin.
But Atherton said that England need to face up to the problem if they are to have a chance of defending their ICC World Twenty20 crown.
He said: "Sometimes when a captain speaks you have to ask if he really believes what he's saying or does he just find it hard to admit they got things wrong, either on selection or in the way they are playing?
"You never quite know. I think Stuart sometimes finds it hard to say 'we got it wrong' or 'I got the team selection wrong'. He doesn't strike me as that kind of bloke.
"But if England kid themselves that all is well against spin then that's not a wise thing. This is not a one-off, it's a pattern stretching back quite some time now how they play spin in one-day cricket.
"This is not something you can put right overnight absolutely, but I think England are better than they showed today, for sure."
Atherton also said Eoin Morgan needs to improve his form to help guide the youthful talents of Jonny Bairstow and Jos Buttler in England's middle order.
He added: "You'd say the really worrying one for England is Morgan because in Pietersen's absence he becomes a very important player in that middle-order.
"We looked at his scores in the last few t20 internationals and they are: 2, 27, 5, 0, 10, 2, 9, 9 and 14.
"Given that Bairstow and Buttler are relatively inexperienced players in that middle order, Morgan becomes an absolutely key player and he's short of runs at the moment.
"That's a worry."