Robert Croft - England spinners Graeme Swann and Monty Panesar need to improve their partnership on India tour
Graeme Swann and Monty Panesar must work better in tandem in India, says former England spinner Robert Croft.
Last Updated: 28/10/12 10:01pm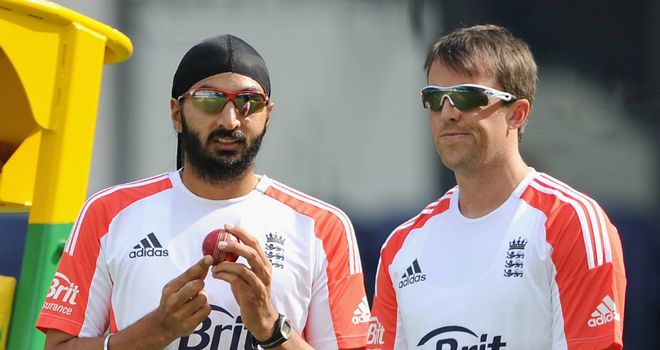 The dry pitches in the subcontinent mean Swann and Panesar are likely to be paired together during the four-Test series starting in November.
"Swann and Panesar are very good," Croft told the England and Wales Cricket Board website. "What they really haven't quite done is bowl as well as they can do together.
"They have each performed very well when they have been the single spinner in a team. What they have got to try and do now is bowl very well as a pair.
"When you're the solo spinner it's easy to work it all out, but when you're one of two spinners sometimes you just want to try and outdo each other and you can lose hold of what you should be doing as a pair. You run free."
Croft has been impressed with India's latest spin duo, Ravichandran Ashwin and Pragyan Ojha, who have taken 73 wickets in their five Tests together.
"They are two bowlers that are very good line bowlers," said Croft. "Ashwin bowls quite a lot different to Harbhajan (Singh). He bowls from quite close in to the crease and drifts it out, and he bowls the 'carrom' ball.
"Ojha is a guy who will run up and bowl and look to go at two, two-and-a-half an over and build pressure.
"Their approach, until the pitches turn, will be to not concede more than 70 runs in a session and see if they can pick two or three wickets up."