Alastair Cook delighted to have Kevin Pietersen back for India tour
Alastair Cook is relishing the prospect of taking on India this winter - and having Kevin Pietersen at his side.
Last Updated: 30/10/12 12:22pm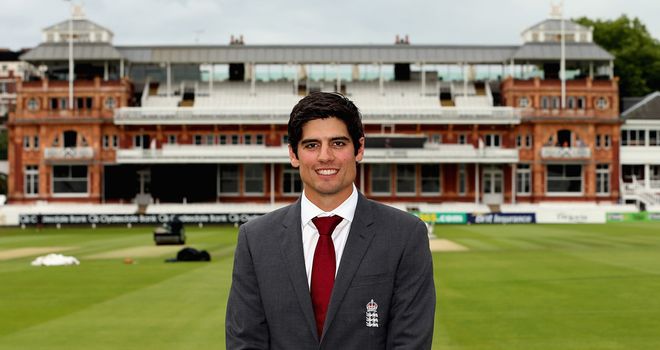 Pietersen has been added to the touring squad after apologising for the text-message saga that saw him dropped for the final Test against South Africa in August and the World Twenty20.
England leave for some pre-tour training in Dubai on Wednesday ahead of the four-Test series and Cook insists that harmony reigns.
"I think it's been a difficult two months for us as an England side, but as captain the best possible outcome is that we have a world-class player back in the team," Cook told Sky Sports News.
"Kevin is very contrite and desperate to be back playing and scoring runs for England. As captain that's all I want."
Cook insists that there is no disquiet in the squad over the fact that Pietersen is currently in South Africa participating in the Champions League Twenty20 with the Delhi Daredevils.
"Over the last couple of weeks these issues have been discussed," he said. "I'm very confident or he wouldn't be in the squad. The team are confident it all can work well.
"There is nothing to be read into the fact that Kevin is still in South Africa. If Yorkshire had progressed, then Jonny Bairstow would not have been available.
Team spirit
"We know how important team spirit is. We have to draw a line in the sand. I'm delighted we have a world-class player back and that's what I want as captain.
"We want him to score match-winning runs like he did in Colombo and like he did at Headingley. He's desperate to pull on that shirt again and do what he does best."
Following the retirement of Andrew Strauss, Cook will have a new opening partner for the first time in six years, and he is excited by the prospect.
"We've done it together for six years and it will be strange to have a new partner," he added. "Of course, it is up for grabs and no decision has been made on that yet.
"There is a lot of work to be done and we know how important it is to be able to combat spin. We struggled in UAE and we need to make sure we are prepared from the very first game.
"It is nearly 30 years since we won in India but we know what we have to do as a side from our experience over the last six or seven months."