Ian Bell willing to jeopardise his place in the England team to attend birth of his child
Ian Bell is confident of winning back his place in the England Test team after attending the birth of his first child.
Last Updated: 06/11/12 3:38pm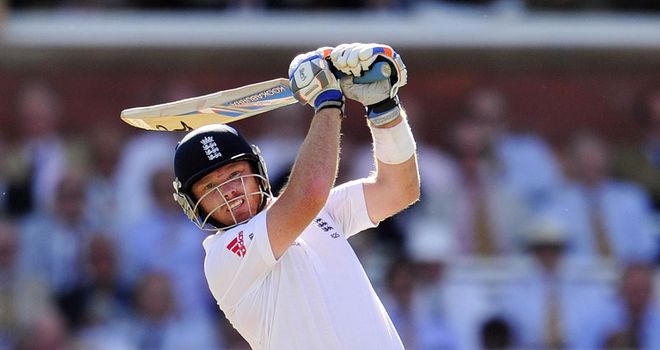 The batsman will leave his team-mates behind in India immediately after the first Test in Ahmedabad and is due back on the sub-continent five days before the third match in Kolkata.
That could open the door for someone to cement their place in the side during the second Test of the four-game series in Mumbai, but that is a risk Bell is willing to take.
"I had a really good chat with (team director) Andy (Flower) in the summer, and he was really supportive about me going home but disappointed I will not be around," said the 30-year-old.
"If we win the Test that I miss and something happens, I will have to fight like hell to get my place back. That's the risk you take.
"But it is the most exciting part of my life, and I am willing to do that. I'd like to think I'd be able to come straight back into the team, and I hope we win the Test.
"Obviously, you don't want to miss a Test match if you can help it. But my family will come first, and that's what I want to do.
"You don't want to give your place up. I've been in positions before when I've been left out - and it's not nice - so I don't want to give anyone else the opportunity to take my place.
"I'm really excited about going home, but I love playing every game I can for England."
Spin challenge
Bell seems certain to play in England's final warm-up match, a four-day fixture starting in Ahmedabad on Thursday against Haryana.
He avoided a golden duck in the second innings against Mumbai A thanks to a dropped catch at leg-gully and went on to make his first worthwhile runs in three knocks on tour.
Even so, he knows he has something to prove to himself and others when it comes to playing spin in India.
"I probably haven't had as much success out here as other places," said Bell. "I see that as a bit of a challenge now.
"I see my playing of spin generally as pretty good. But I haven't scored the big hundreds out here in India that I would like.
"Obviously, the conditions are completely different to what we normally see and grow up with.
"The difficult thing in the middle order is starting, and trying to get through your first 20 or 30 deliveries.
"If you work really hard in those first 30 balls, then you hope as a group we can go on and bat big."
England's failings against Pakistan in the United Arab Emirates last winter - when Bell made just 51 runs in six innings - have sown doubts in some quarters about how they will fare here.
"I know obviously last winter was a really hard series personally," he said. "I've worked as hard as I can since that tour on my playing of spin, and I look forward to these challenges now."