Worries surface over Steven Finn and Stuart Broad ahead of first Test against India
Stuart Broad and Steven Finn are doubts for next week's first Test and will miss England's final warm-up match
Last Updated: 07/11/12 4:30pm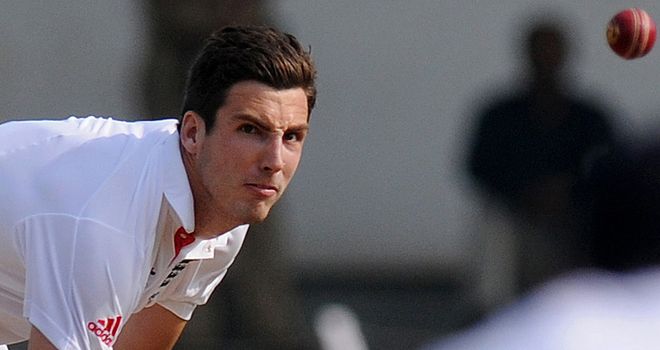 Finn has bowled just three overs on the tour and looks extremely doubtful for the opener with India next week.
Broad has a bruised heel and although he is more likely to shake the problem off than Finn, England are concerned about the vice-captain.
Middlesex star Finn suffered a thigh injury whilst fielding in the first warm-up match in Mumbai, and he missed this week's second match against Mumbai A as a result.
Broad did play in the second match but was rested on the final day after a scan revealed a bruise on his left heel.
Batting coach Graham Gooch said: "With a bruised heel, it is something that can be very annoying and can take time to clear up.
"You've got to see how it goes each day, whether it gets better with the rest - keep checking it and see how it comes on. There's no other way of going about it really."
Surrey fast bowler Stuart Meaker, called up as cover for Finn, could feature in Thursday's game alongside James Anderson, Tim Bresnan and Graham Onions.
Skipper Alastair Cook, Kevin Pietersen and Matt Prior should all return for the Haryana match after they were given a breather in the second match.
Cook's partner
Gooch was giving nothing away about the identity of Alastair Cook's most likely opening partner on Thursday - and in next week's first Test.
It is thought Nick Compton's unbeaten half-century in Mumbai on Monday has inched him ahead of Joe Root in the battle for an international debut next week.
Gooch said of Compton: "He's had a couple of chances already, and Joe Root also played in the last match.
"I think they're two very good players, obviously at different levels of their career.
"One has been in the first-class game for quite a while, and gained experience and found his mark, found the way he can score runs and been very successful over the last couple of years for Somerset.
"The other lad is obviously a young, exciting player. He has a good technique from what I've seen - this is the first time I've seen him close up - and he bowls a bit. So it's going to be quite a difficult selection."
Others will come into consideration, while certainly for the second Test when incumbent number five Ian Bell flies home for the birth of his first child.
"Then you've got Eoin Morgan, Jonny Bairstow, Samit Patel all bidding for places," said Gooch.
"I like competition for places; you want that, people to be putting their hand up and saying 'I want that place in the side'."