Bumble's blog: The Compton-Root debate, England's hopes in India and how Beefy fell foul of an exploding tap
Bumble blogs on the Compton-Root debate and why India won't find things as simple as they think...
Last Updated: 08/11/12 12:41pm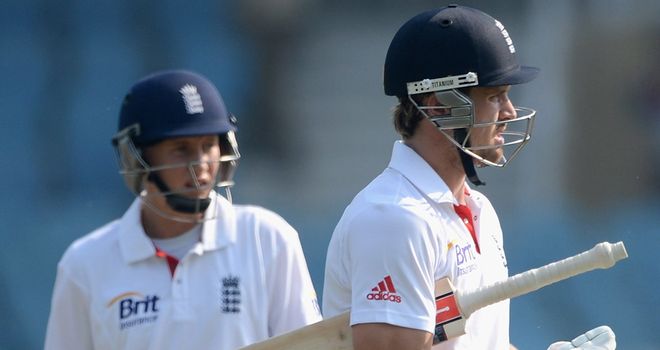 He's the player that has retired and they need a like-for-like replacement. What they don't want to do is disturb three, four, five or six. It's important to disturb a team as little as possible and that means a new opener should come in.
The choice is obviously between Nick Compton and Joe Root, which is a big decision for Andy Flower and Alastair Cook. Do they go with the 29-year-old or the 21-year-old?
You can look at Michael Vaughan, Marcus Trescothick and Cook himself, who came in young and became instant fixtures or you can look at somebody like Michael Hussey or even Jonathan Trott, who had to wait until their late twenties and had a lot of first-class experience before playing international cricket. Which route do you go down?
Compton has the experience and if everything goes brilliantly then you'll get five years out of him, but if you've identified the right player then you could get 15 years out of Root.
I actually don't think this is a bad place to make your first Test start. Test matches in India tend to be armchair viewing with supporters turning up for the one-dayers instead, so the grounds won't be packed. Plus he would be coming into a decent team.
I have no preference, but if you were to shine a light into my eyes then I would maybe go for the younger man. From what I've seen, Compton is an excellent player, but is he significantly better than Root? That's the question I would ask if I was a selector.
If the answer is no, then go for the youngest.
Spinning and winning
The Indian public seem to think that this series is a chance for revenge after what happened in England and that they're going to win 4-0.
All I would say is beware. It won't be plain sailing and their players have still got to do a job.
Virat Kohli (who is a wonderful young player by the way) has said that this is payback time for the green pitches that were produced in England. He's obviously been seeing different pitches to the ones that I've seen! There are no green pitches in England; they may have pace and bounce, but they start dry. There's a good covering of grass, but not green grass.
I have no problem with a home team producing pitches that they would favour - and in this case that means spinning pitches - but that doesn't mean India are going to win easily. They still have to go out and perform; the batters have got to get runs on the board, particularly in the first innings, and then the bowlers have to respond.
Saeed Ajmal unravelled England in Dubai and Abu Dhabi, but they're not going to come up against anybody of his class in this series. India have got decent bowlers, particularly Ravichandran Ashwin, but I know England are not as wary of this spin attack as they were against Pakistan.
It would be dangerous for the Indian public to think they'll win this series comfortably. The home team are definitely favourites - and I would back them to win the series - but England will scrap like mad and I can't see it finishing 4-0.
Techno phobia
India have scored a real own goal by not allowing the use of DRS in this series.
I say that because pitches will be low and umpires will be confident of giving lbw's. The one thing they take to take into consideration is bounce and if they understand it is low then it's going to hit the stumps.
I promise you there will be plenty of lbw's in this series and without DRS they won't be able to mount a challenge against the umpires. The officials won't care who is stood in front of the stumps as long as it hits the pads - so India could see one of their best players walking.
It's quite beyond me why India don't embrace DRS because it improves the correct decision percentage by 3 per cent to 4 per cent. The argument put forward by India is that DRS isn't at 100 per cent, which is true, but it's still 4 per cent better than the naked eye.
Beefy gets soggy
It's been well documented that we'll be covering the series from London and as a commentary group we are determined to make it as seamless as possible for the viewers.
The politics behind the decision is out of our hands, but we're determined things will be right for everybody watching. We have an obligation to the public and we're right up for it.
I actually went on a fishing trip with one of my colleagues last week as myself and Beefy went up to Scotland. Suffice to say we didn't catch anything, but we had a good time discussing where we went wrong.
My personal highlight was when Beefy fell foul of an exploding tap. He wandered into the kitchen and encountered one of those taps that splurts when you turn it on. It backfired spectacularly and absolutely drenched him.
He says he's not going in another kitchen ever again...
Let's dance
I have been watching Michael Vaughan on Strictly Come Dancing and, to be honest, I thought he was floundering for a while.
However, I put him in touch with Latin Les and since then he has sailed on. If you speak to him, he'll say he's indebted to Latin Les, who's worked wonders. I'm just glad he got rid of the hanging basket that seemed to be stuck to his backside!
While Vaughan is busy dancing, we've also got Flintoff taking up boxing. It fascinates me that two iconic figures of English cricket are doing things at totally different ends of the spectrum.
Surely there must be some middle ground between the two disciplines? Can't retired English cricketers just take up a spot of DIY to fill their time?
That's all for this week. I'm off to go and finish the junior quiz for the Cricketer at Christmas (confirmed categories include nicknames, geography, who am I, commentators, big hitters and mascots).
Speak to you next week.
England's Test series in India begins on Thursday November 15 at 3.30am on Sky Sports 1 HD