MS Dhoni has played down suggestions the Kolkata pitch will favour India's spinners in the third Test against England
India captain MS Dhoni believes the performance of the fast bowlers will be the key to success in Kolkata.
Last Updated: 04/12/12 11:28am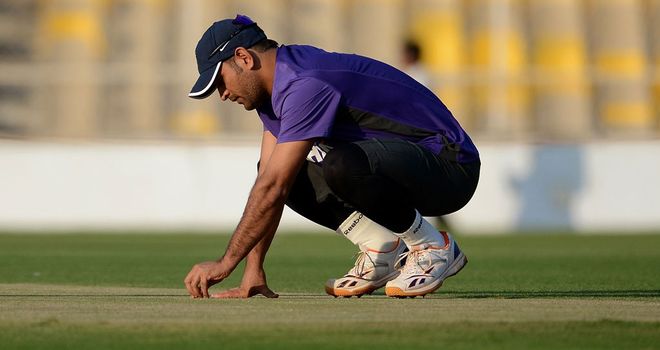 Dhoni was widely reported to have requested a turning wicket be prepared in Kolkata, suggesting the emphasis would be on spin as the hosts attempt to restore their lead in the series.
But the India skipper says it could be three days before the pitch becomes spin-friendly and believes swing will prove crucial as his side attempt to respond from their 10-wicket defeat in Mumbai.
He said: "I think the role of the fast bowlers will be very crucial in this game. The wicket looks good. I don't think there will be much help for the spinners initially.
"The fast bowlers, if you see this time of the year, they get a bit of swing both at the start of play and close to stumps."
England captain Alastair Cook played down concerns that a turning wicket would favour India, saying the tourists benefited most from the conditions in Mumbai.
"Mumbai proved that a turning wicket gives both sides a chance," he said. "It gave us a great chance of winning because it is a result wicket. If it you are going on real flat ones it makes it hard to get a result.
"I'm not quite sure how this wicket will play. I don't think it will have the bounce that Mumbai had. It hasn't got that red clay so I doubt it will do that.
"But all the reports say that, especially after day three, it will turn so it brings both excellent spinners into the game."