Sachin Tendulkar's ODI record may never be surpassed, says Ravi Bopara
Ravi Bopara says he doubts whether Sachin Tendulkar's ODI record for India will ever be surpassed.
Last Updated: 23/12/12 12:15pm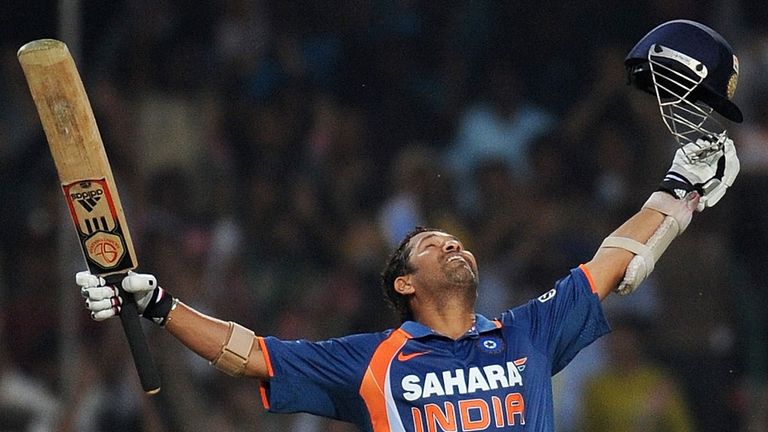 Tendulkar announced his retirement from ODIs on Sunday, bowing out with 49 hundreds - more than any other batsman in world cricket - and a record 18,426 runs to his name, at an average of nearly 45.
The 39-year-old - whose highest score is 200 not out against South Africa at Gawalior in 2010 - played a world record 463 matches and Bopara, currently out of England's ODI squad, said Tendulkar's statistics will stand the test of time.
"He's done wonderful things, not only for India, but for cricket in general," he said. "To score 18½ thousand runs is a joke really! I don't think anyone will ever get that many runs in one-day international cricket again.
"You've got great players like Virat Kohli coming up but I don't think you'll see those stats for a very, very, very long time in cricket."
In a statement, Tendulkar said he feels blessed to have "fulfilled the dream of being part of a World Cup wining Indian team", adding: "The preparatory process to defend the World Cup in 2015 should begin early and in right earnest."
However, he remains determined to add to his 194 Test caps despite scoring only one half-century and averaging just 18 in India's recent 2-1 Test series defeat to England.
Magnificent
Former Australian all-rounder Ian Harvey, who played 73 ODIs, said he hopes Tendulkar's decision to quit ODIs will prolong 'the little master's' Test career.
"I still think he's got a little bit of Test cricket left in him but it is a sad day because the record speaks for itself," Harvey told Sky Sports.
"He's been absolutely outstanding and to do it all over the world and for India - a country where there is so much pressure on the guys to perform week in, week out - is incredible.
"His stats are unbelievable. Ravi says we are not going to see those stats for a long time; I don't reckon we'll ever see anyone with a record that Sachin Tendulkar has got.
"He's been absolutely brilliant and he will be sorely missed so let's hope that this retirement may prolong his Test career a little bit longer because he is brilliant to watch and he has been magnificent for the game of cricket."
Icon
Former England batsman Mark Ramprakash echoed Harvey's words, adding that Tendulkar should be allowed to retire from Test cricket on his own terms.
"How can you sum him up in a few words? He's been a tremendous ambassador for the game. He first played for aged 16 and since then he's often carried the Indian batting line-up. The hopes of a billion people rest on him when he walks out to the wicket.
"He's an incredible run-scorer in all formats; Sachin continues to be a real icon of the game.
"He's got to weigh up when's the best time to quit Test cricket but who is going to be the guy to tell him 'actually, Sachin, you're not going to play Test cricket any more'? I'd think you'd have to go and live in a different country!"
India face England again when the ODI series gets underway in 2013! Watch the first ODI from 8.30am on Friday January 11, on Sky Sports 1 HD.
Sky Sports has secured the rights to England's tour of New Zealand - catch the first T20 international live on Sky Sports on February 9.