MS Dhoni says his bowlers deserve the credit for the emphatic defeat of England
Mahendra Singh Dhoni paid tribute to his bowling attack after India had romped to a seven-wicket victory over England.
Last Updated: 19/01/13 5:34pm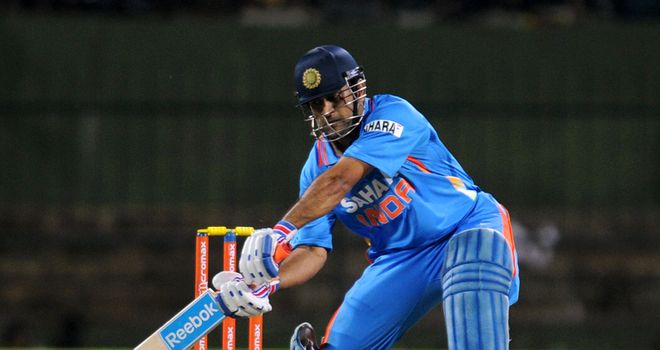 The hosts are now 2-1 up in the five-match series and, to the delight of the vast majority of the 39,000 fans, hometown hero Dhoni hit the winning runs in the first ever international fixture at the HEC International Cricket Stadium.
However, Dhoni realised that his bowlers deserved much of the praise, having bowled England out for just 155.
"I think the bowlers did the job for us," he said. "It looked a good wicket, so it was important to take wickets with the new ball. All of them bowled well and, once the seamers went off, the spinners were really good.
"We batted well too - it was a really good performance by the whole team. We are gelling well as a unit. I think we'll take a lot of confidence from this game and we're looking forward to the next one."
Regarding the venue, he added: "I've played a lot of cricket here. It's one of the best facilities, a fabulous stadium, and the fans were excited about this game. Everything went well, it was a perfect script."
Virat Kohli top scored for India with 77 not out and said: "I wasn't pre-planning anything, like I was doing in the previous games, I just followed my instinct.
"It was a hard wicket. The ball was doing a bit, because the bowlers were getting some bounce, and Steven Finn was getting a bit of seam. There was a bit for the bowlers but it was good for the batsmen and you just had to apply yourself.
"The crowd support was brilliant, the stadium was beautiful and great to play in."
Gautam Gambhir made 33 in a 67-run second wicket stand with Kohli and he said: "We knew England were going to come hard at us with the ball.
"If you're only defending around 150 you need early wickets. It was all about the batsmen doing the job for the team and we did. We set the platform."