Sloane Stephens fears 'huge phone bill' as victory over Serena Williams brings out well-wishers
Sloane Stephens was more concerned by her phone bill than her next match after reaching the Australian Open semi-finals.
Last Updated: 23/01/13 9:39am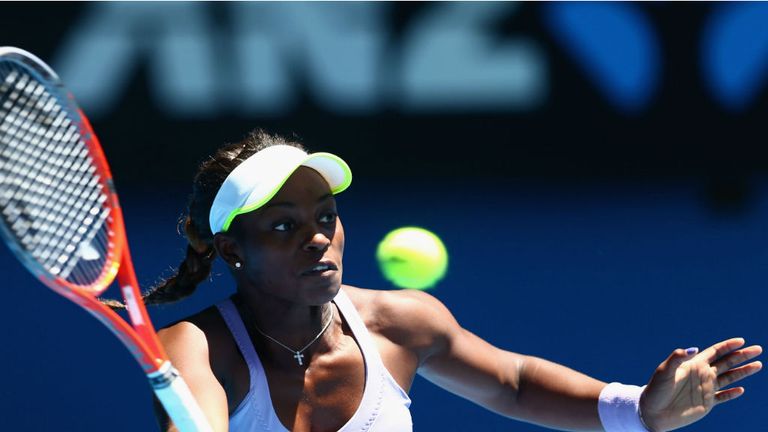 Stephens took full advantage of her opponent's injury troubles to come through 3-6 7-5 6-4 and set up a meeting with world No 1 and defending champion Victoria Azarenka.
It was by far the biggest win of her fledgling career, and one which guaranteed more than £330,000 in prize money, but that did not stop the teenager worrying about running up a huge bill replying to well-wishers.
"I have 200 and something messages now," said Stephens, who said it was "pretty cool" to be in the last four as she brandished two mobile phones in her post-match press conference.
"Wait, I can tell you how many - 213 on this one, and then I don't use this one. I only talk to one person, two people, on this phone, and I had 20 messages. I was like oh, interesting.
Crazy
"I thought it was free to receive text messages, but someone told me otherwise. So I'm still trying to figure out what I'm going to do, because otherwise my phone bill is going to go crazy and my mom is going to be like, 'Oh my God, your phone bill'."
Stephens seemed less bothered by an injury timeout taken by Williams, and she said: "I was just kind of hanging out. Just chillax. In the last three weeks it's happened to me a lot, so I was prepared.
"I go through some things in my head and then look to see what my coach is doing. He was eating a chicken sandwich when that happened."
The 19-year-old said her success began to register in the locker room after the match.
"I was stretching and I was like, I'm in the semis of a Grand Slam. I was like, 'Whoa. It wasn't as hard as I thought'. But it's pretty cool," she said.