Andy Murray's smooth progress to Australian Open semi-finals bodes well for Roger Federer clash, says Barry Cowan
Andy Murray's cruise into the semi-finals bodes well for Friday's clash with Roger Federer, says Barry Cowan.
Last Updated: 23/01/13 5:05pm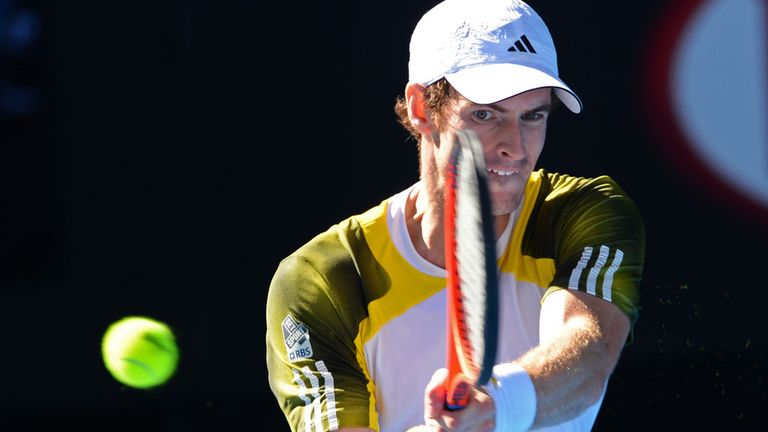 Yet to drop a set in the tournament, Murray - unlike fellow semi-finalists Roger Federer, Novak Djokovic and David Ferrer - hasn't struggled at any stage, beating each opponent with the minimum of fuss.
His 6-4, 6-1, 6-2 win over Jeremy Chardy was no exception and was completed so efficiently that so far his five matches have barely lasted nine hours combined.
Murray seems at ease with himself, both on and off the court, all of which bodes well for Friday's mouth-watering last-four clash against Federer.
In contrast, Federer will be grateful that Jo-Wilfried Tsonga pushed him so hard in the quarter-final stage because before this tournament the Swiss hadn't played competitively since the ATP World Tour Finals at the O2.
Like Murray, who leads the head-to-head statistics 10-9, Federer is supremely fit and this match is going to come down to who can play the big points better.
Although Federer won the last time the two played, at the O2, and came out on top last summer at Wimbledon, Murray was victorious in the Olympic final and his game has improved massively since then.
In all honesty, I don't think those matches will have any bearing on Friday's match but there is bound to be plenty of kidology flying about beforehand and I think Murray's coach, Ivan Lendl, will play a big part in that.
Playing at night should help Murray because it will play a bit slower and if he can make Federer play that extra ball, then he'll win.
But if Federer comes out, hits the corners and plays with conviction then Murray will truly have his work cut out to derail Federer's pursuit of an 18th Grand Slam title.
It really is that tough to call.
Difference
Unfortunately, I can't say the same about Thursday's semi between defending champion Djokovic and Ferrer.
I hate to dismiss a guy who is ranked fourth in the world so lightly, but I don't see Ferrer reaching the final at all.
I doubt I'm alone in thinking that, either, because Ferrer doesn't possess that big shot that you need to consistently beat Djokovic into submission.
Djokovic has played really well throughout the tournament and that scare against Stanislas Wawrinka in the last 16 will only encourage him to step things up a little more.
Everybody talks about Ferrer being one of the hardest workers in the game - someone who is a real credit to the tour and himself, in the way that he's been able to be as good as he is - but deep down he knows he can't beat Djokovic if the World No 1 plays near his best.
As Tsonga and Wawrinka found out again in the last couple of days, to beat the top guys in the world you've got to 'red line' it for long periods; if your game does suffer a dip, as Tsonga's did against Federer at the beginning of the fifth set, that will be the difference.
Inspiration
Talking of different, it's great to see an unfamiliar face in this year's women's semi-finals.
For now the stage deservedly belongs to teenager Sloane Stephens, who thoroughly deserved her victory over five-time champion Serena Williams.
Forget Serena's injury claims, Stephens' victory is a great story about an emerging player who wasn't intimidated and wasn't afraid to take the game to the tournament favourite.
The 19-year-old saw a chance and she's taken it; now she can approach her semi-final safe in the knowledge that all of the pressure is on Victoria Azarenka.
Stephens has to believe that this is her one and only chance to win a major because there are no guarantees that she'll get this far again; hopefully the team that she has around her will help her to prepare in the best possible way.
Stephens' success is a great inspiration for up-and-coming players like Laura Robson, whom she beat in the third round here.
On another day Robson might have won that match, but Stephens - who is a year older - had that little bit more experience on the day.
But any time you see one of your peers achieve a major breakthrough, it can only spur you on. By all accounts I'm sure that Robson will be cheering Stephens on when the semi-finals come around.
However, I'm sticking with my pre-tournament prediction that Li Na will come through to beat Maria Sharapova and go on to reach the final, with Serena out she's now got every chance to go all the way.