England captain Alastair Cook praises India's Rohit Sharma and Suresh Raina
Alastair Cook pays tribute to Rohit Sharma and Suresh Raina after they led India to a series-clinching ODI win.
Last Updated: 23/01/13 9:41pm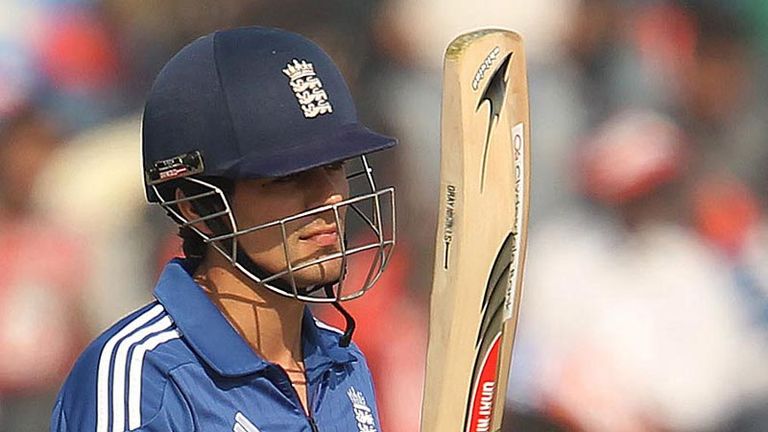 The pair provided a fourth-wicket stand of 68, with opening batsman Sharma's 83 giving the home side the perfect platform to chase down England's total of 257 and Raina's unbeaten 89 from 79 balls guiding them to a five-wicket win.
Raina did benefit from some luck, however, when he edged Steven Finn to slip on 41 but was reprieved when umpire Steve Davis called deal ball after the bowler had struck the stumps in his delivery stride.
"I think that partnership between Raina and Rohit Sharma really (changed the game). When he (Raina) came in the momentum changed very quickly and we just tried to stop the scoring," Cook said on Sky Sports.
"But I thought we put on a good performance today, the conditions weren't quite in our favour and to get it so close I thought we played quite well."
England lost the toss and never truly got to grips with the pitch, although Cook and Kevin Pietersen both scored 76, while Joe Root's 57 not out helped the tourists add 100 runs in the last 10 overs.
"(The ball) clearly nipped around pretty much throughout our whole innings but as the dew came down it started to skid on a little bit," added Cook.
"We knew that if we could load ourselves in those last 10 overs with our batters in, we had a chance to get between 250 and 260, which is a good score on that wicket."
Cook singled out Root for particular praise, saying: "He did really play well, he's good at moving the ball around. The shots he had at the end, I don't think we've seen them before and his strike rate of 130 or thereabouts is really pleasing and the way he handles himself is excellent."