Australian Open tennis: Victoria Azarenka admits she almost choked against Sloane Stephens
Victoria Azarenka admitted almost choking as she struggled to serve out her Australian Open semi with Sloane Stephens.
Last Updated: 24/01/13 10:16am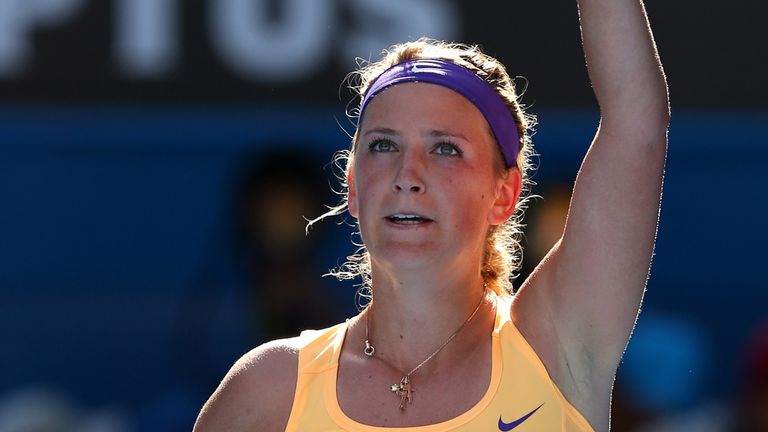 Top seed Azarenka was pegged back by the young American in the second set, but even when leading 5-3 and serving for the match the Belarusian struggled.
Defending champion Azarenka wasted five match points, and after finally setting up a final date with Li Na she admitted that she was feeling the nerves of making the final again.
"I almost did the choke of the year right now," Azarenka said. "At 5-3 having so many chances, couldn't close it out but I'm glad I could close it out.
"Nerves got into me for sure. I felt a little bit overwhelmed and realising I was one step away, nerves got into me. Until 5-3 I was very happy with my performance and after that it wasn't my best but it's important to overcome this struggle and finish the match."
In a dramatic ending, in scorching heat on Rod Laver Arena, Azarenka let slip five match points when she was serving for the match, before being broken for 5-4.
The Belarusian then called a medical timeout and left the court for 10 minutes to receive treatment for a rib complaint and a shortness of breath. When play resumed, Stephens was unable to hold serve and Azarenka made it into the final, but she insisted she needed treatment.
"I regret I didn't do it earlier, but it became almost impossible to breath," Azarenka insisted. "It kept getting worse. I had to do it. I didn't want to take my dress off on court to have treatment.
"I had to unlock my ribs, my back was bothering me. It took me too long to call the trainer. I couldn't figure out what was going on. I just couldn't breath, I couldn't swing, I thought it was pretty obvious. The pain was stressing me out, maybe it was overreaction."
Stephens refused to blame the medical time out by Azarenka for putting her off her game, and insisted that was not the reason for her defeat.
"When you take a MTO it's for a reason," said Stephens. "She played a good match, she played awesome, I worked for every point, it didn't go my way.
"I've never had a MTO I don't know how it feels, I don't know how you call the trainer. I lost the game but not because of the MTO. I love Vika, we share the same agent and we're good friends, I'm sure I'll see her and we'll talk about it. I hope she wins the final."