Novak Djokovic felt "very comfortable" as he beat David Ferrer in Melbourne
Novak Djokovic said he felt "very comfortable" as he beat David Ferrer to reach the Australian Open final.
Last Updated: 27/01/13 8:50am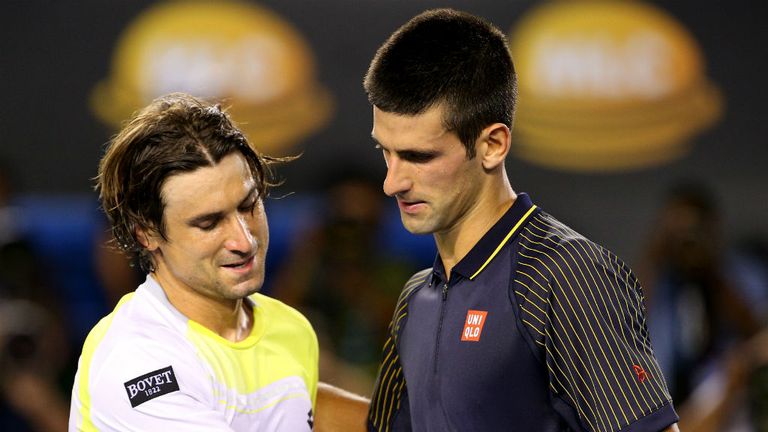 The Serbian world No 1 was on a different level to the Spaniard, recording a 6-2 6-2 6-1 victory in just an hour and 29 minutes in front of a stunned Rod Laver Arena crowd.
Djokovic will now be a strong favourite to win his fourth Australian title in Sunday's decider against either Roger Federer or Andy Murray, who play their semi-final on Friday.
Djokovic was in irresistible form, breaking the hapless Ferrer's serve seven times and hitting 30 winners with just 16 unforced errors in a display in which he intentionally put the emphasis on aggression.
"I played incredible tennis and I felt very comfortable and very confident from the start," Djokovic said. "I wanted to be aggressive on the court but this is definitely one of the best performances I've ever had in my career."
The top seed is bidding to become the first man in the Open Era to win three consecutive titles in Melbourne, and although he doubts he will be able to replicate his semi-final performance in every tournament, he is confident he can maintain it in the final.
"I don't expect myself to play always this well, but I was free in my mind and hopefully I can maintain that to the final," he said.
Incredible
"David is experiencing the best time in his career in the last few years, he won 11 titles last year, but tonight I just played incredible.
"It can only do positive things for my confidence. Definitely at this stage of the tournament, playing semi-finals against the world number four, somebody that I have respect for, great competitor, and being able to perform as well as I did, it's incredible.
"I have a great feeling about myself on the court at this moment. Now I have two days off before the final which gives me enough time to get ready and recover."
It was 30-year-old Ferrer's fifth loss in a Grand Slam semi-final and his defeat by Djokovic was only his second in 14 matches this year.
Ferrer was powerless to stem the onslaught even though he tried to chase down everything across the back of the court. The imperious top seed broke Ferrer three times in the final set to wrap up victory in double-quick time.
"He played very, very good. I didn't have any chance to win. All I can say is Novak was better in every moment than me," Ferrer said.
"I've never lost like this. Anyway, I made the semi-finals. It was a good three weeks and I'm very happy for that. Of course, I am not happy with my game tonight, but this is tennis, no?"