Past meetings
We look back at previous meetings between Andy Murray and Novak Djokovic ahead of Sunday's final.
By Andy Schooler and Nat Whitney
Last Updated: 25/01/13 3:41pm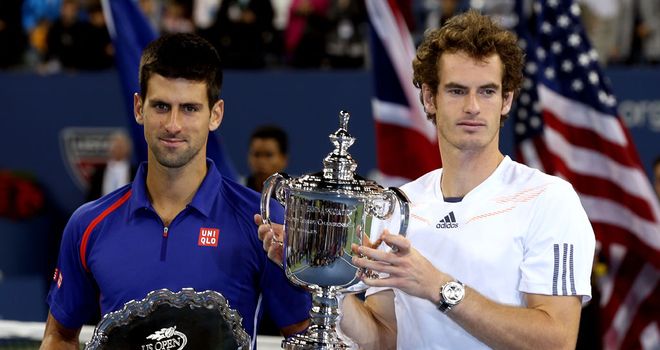 Andy Murray takes on Novak Djokovic in the Australian Open final on Sunday after the British No 1 saw off Roger Federer in the last four.
The pair, born just a week apart, have long been rivals, with Djokovic leading their head-to-head record 10-7.
Here, we take a look back at all 17 of the previous meetings between the two.
Madrid, 2006, L16 (indoor hard) - Djokovic 1-6 7-5 6-3
Murray made a flying start to the then-teenage pair's first encounter in the slick conditions in Madrid, but his Serb foe hit back to prevail in three sets. Even the presence of Real Madrid star David Beckham could not inspire Murray to victory.
Indian Wells, 2007, SF (outdoor hard) - Djokovic 6-2 6-3
Murray struggled on serve in the Californian desert, being broken five times as Djokovic wrapped up a comfortable victory in just over an hour. To be fair to Murray though, he was hampered by an ankle injury sustained in a fall during his epic quarter-final win over Tommy Haas.
Miami, 2007, SF (outdoor hard) - Djokovic 6-1 6-0
Just a fortnight after Djokovic's win at Indian Wells, the Serb repeated the trick in even more convincing fashion. Murray was never at the races as Djokovic continued to hold the Indian sign over his British rival. Murray lost the last 11 games and described the contest afterwards as "the worst match I've probably played since I've been on the tour".
Monte Carlo, 2008, L16 (outdoor clay) - Djokovic 6-0 6-4
Another dominant display from Djokovic - who remains to this day a better claycourt player than Murray - saw him triumph once again. Murray rallied briefly in the second set but, in truth, was well beaten.
Toronto, 2008, QF (outdoor hard) - Murray 6-3 7-6
Murray finally posted a victory over Djokovic at the fifth attempt on the North American hardcourts he loves. It could have been a different story, however, had Djokovic converted a set point when 5-4 up in the second. Significantly, Murray was happy with the way his slice worked in this match - he has used it well since in their battles.
Cincinnati, 2008, F (outdoor hard) - Murray 7-6 7-6
The duo's first meeting in a final saw Murray prevail in two tie-breaks. It came just over a week after his victory in Canada and allowed him to claim his first Masters Series title, at the time the biggest of his career. Murray missed four match points when leading 5-3 in the second set but refocused to close it out in the breaker. Again, the Murray slice frustrated Djokovic, who said afterwards: "He was playing a lot of slice and changing pace to my forehand. I just lost the rhythm."
Miami, 2009, F (outdoor hard) - Murray 6-2 7-5
Murray dominated the first set but had to fight back from 5-2 down in the second, saving set points in the process, to seal his victory. This match was played in searing heat which Murray dealt with better. Djokovic admitted later: "I was, I think, the biggest enemy to myself. I was struggling again and trying to adjust to the heat." He has, however, coped much better with such conditions since.
Australian Open, 2011, F (outdoor hard) - Djokovic 6-4 6-2 6-3
After Murray's Miami victory it was almost two years before the pair met again - and it came on one of the game's biggest stages. With this being the first Grand Slam final for three years not to feature either Roger Federer or Rafael Nadal, it was billed as Murray's best chance yet to win a major but on the day he was never at the races. Unable to lay a glove on Djokovic, Murray succumbed in meek style.
Rome, 2011, SF (outdoor clay) - Djokovic 6-1 3-6 7-6
When the pair clashed again four months later, Djokovic's incredible winning start to the season had reached 36 matches (38 in total). Murray came close to ending the streak but narrowly missed out. He was within two points of victory at one stage and actually served for the match at 5-4 in the decider. However, Djokovic dug deep to preserve his unbeaten start.
Cincinnati, 2011, F (outdoor hard) - Murray 6-4 3-0 ret
It was June before Djokovic finally lost a match in 2011 and by the time he arrived in Cincinnati it was still the only blemish on his record. However, Murray made a flying start, never giving the Serb time to settle and took the first set. Djokovic, looking increasingly weary, soon required treatment on a shoulder problem and, with the US Open looming, opted to to retire while a double-break down in the second set to hand the match and the tournament to Murray.
Australian Open, 2012, SF (outdoor hard) - Djokovic 6-3 3-6 6-7 6-1 7-5
Most would regard this as the best match between the two. In a high-quality contest which would last almost five hours, Murray pushed Djokovic to the limit. The match swung back and forth, the tenacious Murray fighting back from a set down to lead, only for a fourth-set slump to hand the initiative back to his opponent. In a thrilling final set, Djokovic led 5-2 only for Murray to level and then hold three break points to leave him serving for the match. However, the Serb stood firm and eventually secured victory and a place in the final of the tournament. Murray said afterwards: "After the year that Novak's had, I think there's a very fine line between being number one in the world and being three or four. I feel tonight that I closed that gap. My job over the next two or three months is to surpass him and the guys in front of me." Give or take a few months, he would do just that.
Dubai, 2012, SF (outdoor hard) - Murray 6-2 7-5
Murray became the first player in 2012 to beat Djokovic which was even more impressive considering the Serb was on an 18-match winning streak in Dubai. Murray won seven games in a row from 2-2 to take full control of the match and despite a late wobble, he would not lose his grip.
Miami, 2012, F (outdoor hard) - Djokovic 6-1 7-6
This was only Murray's fourth match of the tournament after Milos Raonic and Rafael Nadal both withdrew in previous rounds which possibly affected Murray. Djokovic put in a commanding performance, racing through the first set. Murray put up more of a fight in the second but admitted afterwards "Djokovic deserved to win".
Olympics, 2012, SF (outdoor grass) - Murray 7-5 7-5
Murray made it into the Olympic final with a straight-sets victory against the Serb. Murray regularly threatened the Djokovic serve and struck for the first time in the 12th game to take the opening set. Djokovic responded though and regularly held break chances in the second set only for Murray to stand firm. Impressively Murray wrapped up victory with a break to love to guarantee GB another medal. Two days later he beat Federer to win gold.
US Open, 2012, F (outdoor hard) - Murray 7-6 7-5 2-6 3-6 6-2
The clash which rewrote the history books of British tennis. The biggest match between the pair since Djokovic won the Australian Open in 2011 produced an enthralling contest as Murray ended the 76-year wait for a British male Grand Slam singles champion. Murray twice led by a break in the opening set but needed a tie-break to seal it. He then blew a 4-0 lead in the second only to again strike at the business end. Then came the Djokovic fightback and when he levelled at two sets apiece Murray's hopes were fading fast. But the Scot's history bid was not to be derailed. He broke in the opening game of the decider to reclaim the momentum and duly pushed on to, finally, secure his first Grand Slam crown.
Shanghai, 2012, F (outdoor hard) - Djokovic 5-7 7-6 6-3
Murray missed out on a third consecutive Shanghai title as he squandered five championship points in what was a high-quality match, one which lasted three hours and 21 minutes. Murray looked set to back up his US Open victory over Djokovic when he served for match at 5-4 in the second set. However, he missed one match point in that game and a further four in the resultant tie-break which Djokovic eventually won 13-11. From there it was no surprise to see the Serb emerge as the champion.
ATP World Tour Finals, 2012, RR (indoor hard) - Djokovic 4-6 6-3 7-5
The most recent meeting between the pair came at London's O2 Arena in November. After a great start which saw him playing near-perfect tennis, Murray was pegged back. In the final set, Djokovic led 4-2 but Murray dug deep, winning three games in a row and at 5-4 he was within two points of victory. However, Djokovic held and then broke from 40-15 down. Even then, Murray wasn't done but having moved to 15-40 he could not convert his break points and Djokovic completed the narrowest of victories to beat Murray for the fourth time in 2012 and move closer to the semi-finals.