Cricket Expert & Columnist
Mike Atherton says England should breeze past New Zealand in three-match Test series
Mike Atherton expects England to expose New Zealand and dominate their three-match Test series.
Last Updated: 04/03/13 9:58am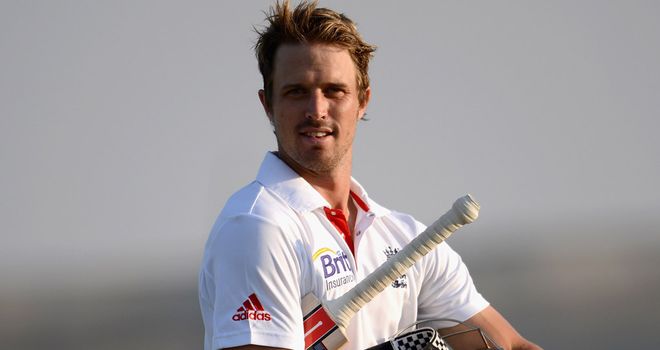 Their squad looks much stronger than the Kiwis' and they have been playing a consistent brand of five-day cricket for some time now, while the home side have had strife internally, with problems arising between former captain Ross Taylor and coach Mike Hesson.
England probably won't receive an intense workout ahead of the Ashes - though with Australia not as strong as they used to be, perhaps Alastair Cook's side don't need one - and you would like to think they could dominate New Zealand.
The hosts have a decent pace attack that could cause England's top order problems, but with Daniel Vettori out with an Achilles injury, their spin resources are pretty threadbare, with 32-year-old Bruce Martin set to get the nod for the first game in Dunedin.
It's also hard to see whatever opening-batting combination New Zealand select protecting the talented middle-order men Taylor, Kane Williamson and Brendon McCullum and I think the likes of James Anderson and Steven Finn will be too much for them.
You can deal with one or two areas of weakness in the shorter formats and New Zealand impressed to an extent in their 2-1 one-day series defeat, but over five days of a Test match they appear too vulnerable to really test their visitors and should be exposed.
England won't enter the first Test with a great deal of first-class preparation - the in-process clash with a New Zealand XI in Queenstown is their only warm-up match - and guys who weren't on the one-day portion of the tour, like Nick Compton and Matt Prior, may be a little cold.
But Andy Flower's troop are a pretty ruthless bunch these days and I don't see any complacency setting in either, so I would not be surprised to see them win in Dunedin, Wellington and Auckland and take the series 3-0.
That result, as well as the fact there are quite a few weak teams, could re-open the debate over whether there should be a two-tier Test match system - though I'm not sure that would fix the game's ills.
Maximise
Judging by the side England picked to face the New Zealand XI it seems pretty clear that man of the moment Joe Root will bat at six and Compton will maintain his place alongside Cook at the top of the order.
You could see Root and Cook being England's openers long-term, but that ultimately depends on how Compton, who averaged a touch under 35 during the Test series win in India at the backend of last year, gets on.
If he falters in New Zealand you would think he would be vulnerable for the Ashes and that Root could move up and one of Jonny Bairstow - who played brilliantly in the final Test against South Africa last summer - and Eoin Morgan - who has impressed, albeit intermittently at Test level - could come in.
But from what I've seen of Compton so far, he looks like a guy who will take a chance if he's given it; he is not the best opener England have ever had but seems to have this ability to really maximise his talent.
The most interesting selection will be the fourth bowler; Anderson, Finn and Graeme Swann seem certain to play, but the final spot in the attack looks likely to be between Stuart Broad and Graham Onions - and whispers from the camp suggest it might be Onions.
Competition
However, I would have no problems with either; I am a big fan of Onions and Broad is an excellent cricketer and the fact they are battling for one berth shows what strong internal competition England have, something that is bound to drive the team forward.
Flower, meanwhile, will come back refreshed after handing one-day reins to Ashley Giles, while he will also have been able to get through a significant amount more preparation for the Test series during his mini-break.
This two-coach system should benefit England in all forms of the game as while Flower can now focus his attention on leading England against New Zealand, Giles can really get stuck into limited-overs mode and plot a way to win this summer's Champions Trophy on home soil.
I have long advocated that there should be different coaches for the Test and one-day games; it seems a natural move given the amount of international cricket there is, and in this instance it should prolong Flower's spell as England team director by giving him enough down time.
You have to be careful and ensure that there is a good relationship between each coach and that one is not after the other's job, but there is just too much for one man to do, so you can see other countries adopting the set-up, too.