New Zealand analysed ahead of the first Test with England
Dominic Cork and Rob Key assess New Zealand's batting and bowling threats ahead of the first Test.
Last Updated: 04/03/13 3:32pm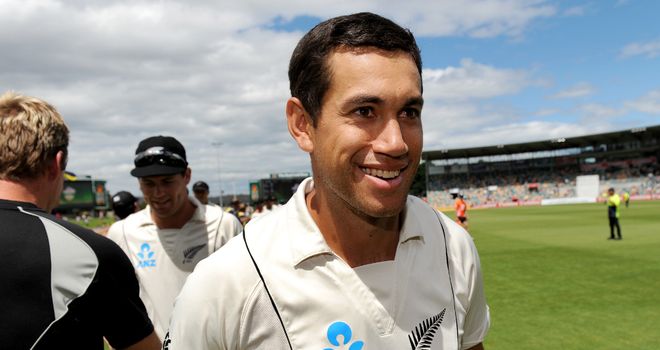 After two months away from the Test arena, Alastair Cook will hope his five-day XI will hit the ground running in Dunedin in a series, coupled with the return matches in England in May, which will form his side's final preparations ahead of back-to-back Ashes later in the year.
But what challenges will the Black Caps pose on their own soil? And how will Andy Flower's men adapt to the significantly different conditions in New Zealand compared to India?
To answer these questions skysports.com spoke to former England internationals and Sky Sports pundits Dominic Cork and Rob Key.
New Zealand's bowling attack
Cork: The pick of the New Zealand bowlers is probably Tim Southee. The 23-year-old has got enough pace to cause problems and swings the ball as well. He's a young guy who has just come back from a big injury but he could potentially be the match winner New Zealand need. Generally, New Zealand have struggled to get consistency with their bowling unit and they've got injuries to key players ahead of the first Test as well. So they will need Southee to lead from the front and do some damage with the new ball. He's not got the best average (35.04) but he's taken 65 wickets in 21 Tests so Brendon McCullum will be looking to him.
Then there's Doug Bracewell, who's a year younger than Southee. He performed well in Australia in December 2011, taking 6-40 in the Hobart Test to help New Zealand win and he's got good pace. The third bowler to watch will probably be Trent Boult, who averages 28.79 from his nine Tests.
However, it's not really about these bowlers as individuals but how they combine as a unit. They're all inexperienced guys with under 50 Test matches between them so playing against a team which was recently number one in the world is going to be a big learning curve for them. There's so much talent in the England batting line-up the young New Zealand bowlers will have to learn to adapt quickly.
They're not a side that will rip through you but a side that will frustrate and build pressure to get wickets.
Unfortunately for them New Zealand will be without Daniel Vettori for the whole series and he's going to be a big miss for them. The experienced spinner is a good left-arm bowler and he would have helped create the pressure they need. They'll also be without Chris Martin for the first Test. Again, he would have brought a lot of experience to the unit and he can also move the ball and get people out.
It's a massive blow for them to have both of them out and the younger guys are going to have to try and make up for their absence.
The problem is, I can't see this attack taking 20 England wickets. They need to try and take early wickets with the new ball and then build up pressure - or hope for a fantastic performance from someone such as Southee to put England on the back foot.
New Zealand's batting line-up
Key: It will be interesting to see where Brendon McCullum bats. He wants to bat down the order but with Martin Guptill injured he could end up opening, perhaps with Hamish Rutherford, who scored 90 against England in the warm-up match. But, wherever he bats, McCullum is going to be a dangerous player who can get a quick score and take the game away from you.
New Zealand also have Ross Taylor coming back and he's got a point to prove after missing the South Africa trip. He averages just over 43 and has as good a record as anyone. He's the best batsman New Zealand have had for a long time and will obviously be another dangerous player.
Then there's 22-year-old Kane Williamson whose stock has increased with the tour of South Africa. He played well out there against them in some tough conditions and looks like he has the talent and temperament to do well. He's shown in the 50 over game against Dale Steyn he can perform and he's also got a good technique.
Dean Brownlie is another batsman England will be thinking about. He scored a century in the first Test in Cape Town - although he doesn't really move his feet at all.
We saw the New Zealand team get out for just 45 in that first Test against South Africa at Newlands and they only made 121 in their first go at Port Elizabeth, but I can't see them slumping to scores like that in this series. New Zealand pitches are different to those in South Africa where they have a bit of life and on the flatter surfaces I imagine New Zealand's openers will be harder to move. Although, on the flip side to that, it will be harder for the hosts to get England out when they're bowling.
The New Zealand batsmen have got a tough task against England's bowling attack. They rely so much on their senor batsmen and with Guptill being out, Taylor is going to be a huge player for them and they need someone like Williamson to stand up.
Conditions
Cork: It will relatively cold in Dunedin and for England, coming from India, it will feel like Christmas. But New Zealand should know how to bowl at Dunedin, Wellington (where the wind can help with swing) and Auckland. We'll generally see flattish surfaces and it will be down to who can create enough pressure over a period of time. I imagine England will be so much stronger than New Zealand it will be the home side under pressure, though.
Key: The wickets generally start with a bit of life in them and are similar to English conditions in a lot of ways. But then they will basically flatten out because you're using the Kookaburra ball. So the new ball is going to be crucial right the way through the series. The first 15-20 overs of each innings in either discipline will set your team up either way for the game.
With that in mind I expect England will go back to their standard way, with three seamers plus Graeme Swann holding an end up and chipping in with a few wickets in the first innings before bowling more in the second. I don't expect the wickets to spin at all so it will be all about the seamers rotating around the spinner if they don't get wickets. But I expect England will have more than enough to get through the New Zealand batsmen in these conditions.
Prediction
Cork: I would hope England win at least 2-0. It wouldn't surprise me if it's 3-0. England are so dominant in every aspect of the game compared to New Zealand; their squad is streets ahead in quality and consistency. The only way New Zealand stand a chance is if England are at 30 per cent or 40 per cent and allow the opposition to dominate. But I don't see England doing that and I think they'll win it convincingly.
Key: England are massive favourites and I'd be surprised if they don't win every Test. I can't see New Zealand getting 20 wickets and England have them covered on every base.