Australia batsmen can't cope with India spin, says Dominic Cork
'Shell-shocked' Australia will lose both Ashes series, unless they improve, says Dominic Cork.
Last Updated: 05/03/13 2:11pm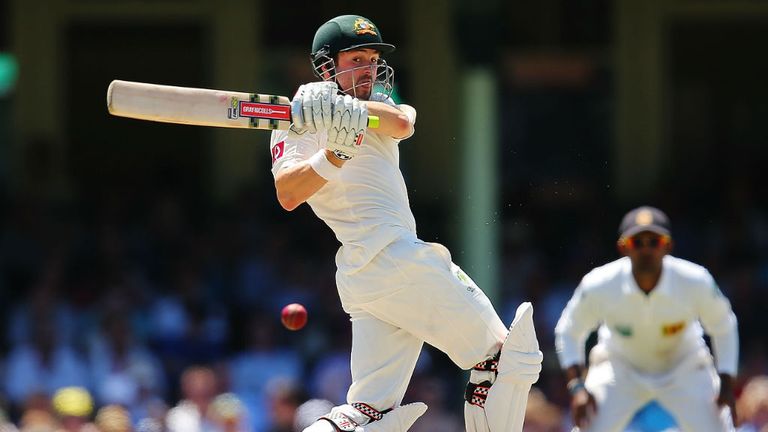 That's the view of Sky Sports pundit Dominic Cork after watching Michael Clarke's side crumble on day four of the second Test with India in Hyderabad to lose by an innings and 135 runs and fall 2-0 behind in the four-match series.
The tourists lost eight wickets for 57 runs on Tuesday and Cork believes the morale in the Australia camp must be suffering as a result of their troubled tour in India, which also saw them lose the first Test by eight wickets.
"I cannot see how Australia can beat England in England or Australia with that sort of batting line up," Cork told Sky Sports.
"Their bowling, once everyone is back fit and playing in English conditions, is another matter. But unless they get someone into that top three I can't see it.
"Look at how England have consistently played home and away for a long time now - and how they will perform in New Zealand, which I predict will be a 2-0 or 3-0 success - and I seriously cannot see [Australia winning the Ashes].
"Conditions aren't going to be like this in England but you try to build up a bit of momentum to go into the back-to-back Ashes and at the moment they are being demoralised."
Cork criticised Australia's batsmen for their technique against India's spin bowlers - "Technically, they look like they can't play; they look shell-shocked" - but said the side was not helped by selectors bolstering their top order at the expense of the bowling unit.
And the former Derbyshire and Hampshire bowler compared them to the England side of the 1990s for dropping spinner Nathan Lyon for batting all-rounder Glenn Maxwell.
"Although it was very good bowling from India in this Test, I don't think technically Australia were ready for the battle," he said.
"This reminds me of the 1990s England side which I played in where we didn't get the right combinations together because we panicked when our batsmen didn't get enough runs. We ended up having Graeme Hick - a number three - batting at seven in Australia, were all out for 117 and then didn't have enough bowlers and lost the Test match.
"Surely Australia know when they go to India what sort of combination they need. They've seen England go 1-0 down and then change the side, back their batsmen and bowlers and win the series.
"If the batsmen aren't performing you can't drop a bowler because you're not going to win a game."
Belief
However, Cork also applauded India's performance in the Test series so far, following their defeat at the hands of England - and picked out their batsmen for special credit.
"We can talk about what Australia are missing but what India have gained since losing to England is a team that have got belief and the capability of pushing most teams," he said.
"Yes, they're at home and the conditions favour them, but you can only play against the bowlers and the pitch in front of you. And throughout these three days and one session India have been absolutely magnificent."
See if Australia can bounce back in the third Test, live on Sky Sports HD from 14 March.