Nick Compton and Jonathan Trott impress on day one of second Test
Alec Stewart praised Nick Compton for his 'near-perfect' innings on day one of the second Test.
Last Updated: 14/03/13 11:07am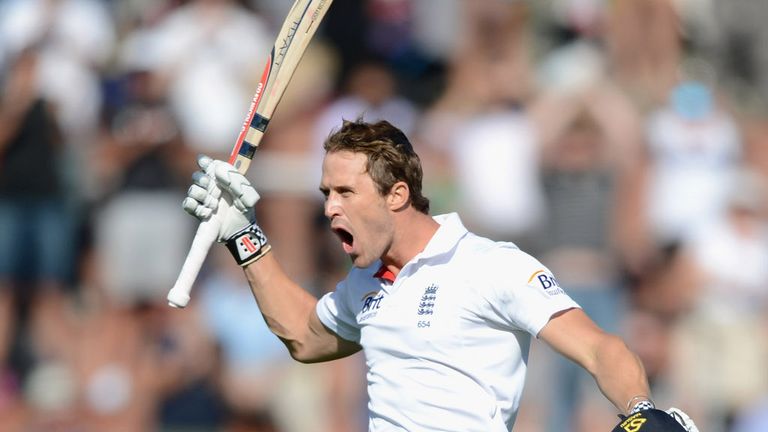 Following their woeful first innings in the first Test at Dunedin, where England were bowled out for just 167, Andy Flower's side showed far more resolve in Wellington, with Somerset opener Compton backing up his first Test ton with another hundred, while Jonathan Trott coolly amassed 121 not out.
Compton, whose position at the top of the order was under threat from emerging talent Joe Root before the series started, reaffirmed his ability with 100 before being caught at slip and former England captain Alec Stewart believes the 29-year-old is feeling confident after his second knock in Dunedin helped the tourists draw the series opener.
"Compton blossomed today," the one-time wicket-keeper-batsman told Sky Sports after the tourists closed on 267-2.
"It's amazing what that one hundred has done to him because he's now playing as though he's a Somerset player, where he dominates County cricket. He has picked up some big scores playing for them and he can do the same now for England. He looks at home in the Test arena now.
"He took on the New Zealand bowlers and dominated them with both attack and defence. He was in total control in everything he did; he was quick onto the short ball and if it was over-pitched he drove it through the covers. He played near enough the perfect innings and his driving especially was spot-on.
"He took his foot of the gas and played a loose shot to get out but take nothing away from a tremendous innings."
Meanwhile, at the other end, Warwickshire's Trott recorded his ninth Test ton and will start day two with Kevin Pietersen aiming to put the hosts under further pressure - and ex-England quick Angus Fraser reckons the 31-year-old is almost immovable on a batting track, such as the wicket in Wellington.
"When he gets onto a pitch like this he doesn't look like getting out," said Fraser, after watching Trott compile his total off 234 balls with 15 fours.
"Like Compton he just loves batting. He's got a good array of strokes, scores all-round the wicket and there are no areas where you can dry him up.
"They aren't big shots he's playing; he's not going out there bashing it. It's just a steady accumulation of runs and a strong desire to go on.
"He carries on relentlessly battering down the New Zealand bowlers."
Swing
Brendan McCullum opted to bowl after winning the toss but it was a tough day for the New Zealand bowlers and Sir Ian Botham said he was surprised there was not more swing for the Black Caps' quicks.
"Both sides were going to bowl first and everyone expected it to do a bit more than it has done," reflected the former all-rounder.
"The thing that surprised me was it didn't swing. The wind was out of the North West and normally on this ground that makes it swing but it hasn't done a thing - and it hasn't seamed around much either. All in all it's been pretty unhelpful for the bowlers.
"But England have made the most of that and they've batted themselves into a strong position. On day two the wicket will be at its best and it'll become even more hard work for New Zealand."
And Botham fully expects England to capitalise on those conditions on Friday, before taking on the New Zealand batsmen later in the day.
"The more aggressive batsmen are to come in [so the scoring rate will go up]," he said.
"England will then want to be bowling sometime late in the afternoon and have maybe 20 overs at New Zealand, with 550 runs on the board."