Kiwi conclusions
England saved face with a great escape in Auckland but is a shared series with New Zealand good enough? Skysports.com's Joe Drabble considers five reasons why Alastair Cook's men failed to conquer the Kiwis in the three-Test series.
Last Updated: 27/03/13 6:43am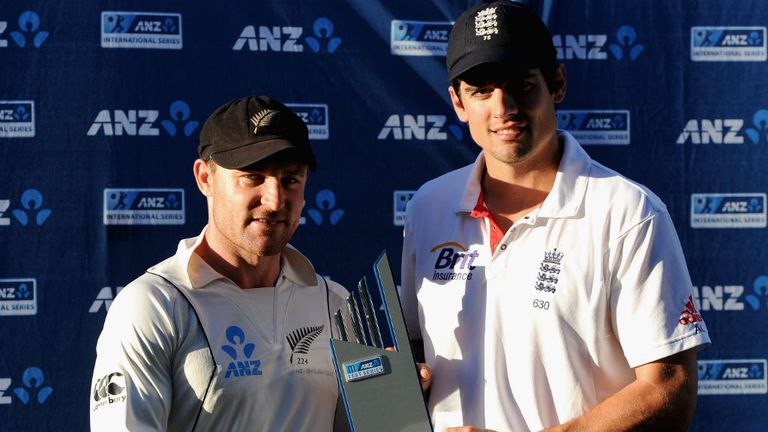 Matt Prior's almost apologetic celebration when he blocked out the final delivery in Auckland to earn England a backs-against-the-wall series-saving draw against New Zealand spoke volumes.
As gallant an achievement as it was to save the match, perspective is always needed, and a drawn series against the second worst Test nation must surely be deemed a failure.
Rain played its part in draws at Dunedin and Wellington, however few could have begrudged Brendon McCullum's men a long-awaited home series triumph over England after they dominated the decider at Eden Park.
So, where did it go wrong for England? I've come up with five reasons below. Agree? Disagree? Send in your comments at the bottom of the page and tweet me @SkySportsDrabs.
Slow start
The tone for the series was set with England's rather embarrassing tour defeat against a New Zealand XI at the lively resort of Queenstown. While it would be easy to dismiss the importance of a tour match, the game in fact allowed some of New Zealand's fringe players to gain some invaluable confidence ahead of the Test series. Aggressive Kiwi opening batsman Hamish Rutherford crashed 90 in his first red-ball meeting with the English seamers to cement his place for the series-opener in Dunedin - where he made 171 - and left-arm quick Neil Wagner claimed six wickets in the match before ending as the hosts' leading series wicket-taker. Kiwi wicket-keeper BJ Watling also hit the winning runs in the three-wicket Queenstown triumph before going on to enjoy a solid series with both bat and gloves. It may have seemed trivial at the time, however the tour defeat saw Alastair Cook's men miss an ideal opportunity to land some psychological scars on a number of New Zealanders.
Brilliant Brendon
The controversial appointment of Brendon McCullum as New Zealand skipper back in December seemed, at the time, ludicrous. Ross Taylor had just led the Black Caps to their first Test victory in Sri Lanka for 14 years before being unceremoniously sacked, and McCullum's reign began with two crushing innings defeats in South Africa. New Zealand's Test team were in tatters and England, fresh from a famous win in India, were about to arrive on a high. But McCullum, as sharp tactically as he is on to a short ball, appears to be revelling in his role and out-performed opposite number Cook with both bat and brain. Only one miscalculation - a cautious declaration in the Auckland decider - cost his side a famous series victory but his leadership prior to that was exemplary. With the bat, McCullum averaged 82.66 to Cook's 38 and his winning nature, coupled with the ability to get under the skin of the opposition, draws immediate comparisons to two of the games great competitors, Ricky Ponting and Graeme Smith.
Swann absence
England desperately missed their premier spinner, who was ruled out of the Test series after requiring further surgery on a troublesome elbow. The onus was therefore on Monty Panesar to step up and produce some magic on lifeless pitches, but he failed to do so. Monty finished with just five wickets in the series and while he did a fine job in tying down an end, he was rather predictable and comfortably out-bowled by left-arm counterpart Bruce Martin. England desperately need Swann's guile back in time for the Ashes double-header.
THAT toss
Captain Cook dropped a real clanger at the start of the final Test at Eden Park. The England skipper called correctly at the toss but will perhaps wish he didn't after his decision to bowl first backfired spectacularly. Seam and swing movement was at a premium on a glorious opening day that saw New Zealand close on 250-1 before eventually posting 443 all out in their first hit. It was the first time since 1959 that England took just one wicket after asking a side to bat on the opening day of a Test. The scoreboard pressure told on England's batsmen, who were bundled out for just 204 in reply... and we all know the rest...
Negative approach
At times, England's tactics during the series were baffling. Long have the Test side been branded defensive, negative and cautious, but because the results have, in the main, been positive, all seemed forgiveable. But, against inferior opposition, this was England's chance to make both the running and a statement. While McCullum rarely had less than four slips in the cordon and continued to tinker with his close-in catchers, Cook seemed content on waiting for inspiration, rather than forcing it. A memorable moment of frustration came in the second Test in Wellington when New Zealand 'keeper Watling edged through the vacant third slip when he had two runs and the score was 95-5. New Zealand were replying to England's 465. That moment cost England vital time in their race against weather. The negativity rubbed off on the England batsmen, who batted at over three runs an over in only two of their six innings. The Kiwi batsmen attacked the spin of Panesar, launching him for 12 sixes in the series, while the inexperienced left-arm spin of Martin disappeared over the rope just once. Prior aside, there was a real lack of intent in England's batting.
Sky Sports' live cricket schedule for 2013-14 includes both Ashes series, all England's home Investec Test Series, NatWest Series One-Day Internationals and NatWest International T20 matches against New Zealand and Australia, plus The ICC Champions Trophy.
Sky Sports will also show each county at least three times this summer, with 60 live fixtures from the Yorkshire Bank 40, LV=County Championship and Friends Life t20. In addition, our cameras will be at Essex when they host the England team for their Ashes warm-up match.