Shahid Afridi wants to play in 2015 World Cup but knows he must regain form
Shahid Afridi hopes to play for Pakistan in the 2015 World Cup but says he will quit if he starts to become a burden.
Last Updated: 11/04/13 2:41pm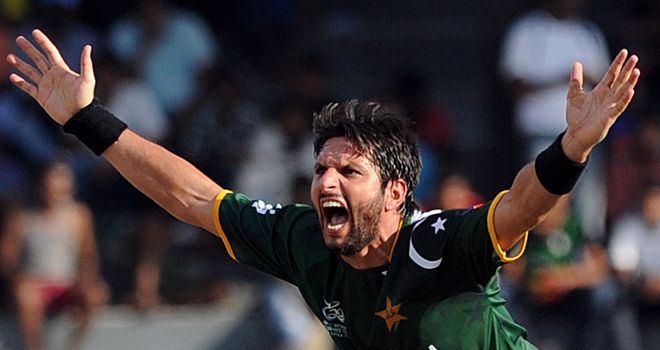 The 33-year-old was left out of their squad against India late last year and struggled with his form when recalled against South Africa, but he just about did enough to claim a place in Pakistan's 30-man Champions Trophy squad.
However Afridi says he will retire, as he did from Test cricket in 2010, if his old form does not return and he feels like he is stifling the chances of younger players to progress into the international ranks.
"My fitness level is good and I want to continue playing at the top level," Afridi said. "The 2015 World Cup is in my mind but it depends on fitness and performance.
"When I felt I was not up to the mark in Tests, I left the five-day format. I will not play by force neither would I like the selectors to select me without good performance.
Afridi said he was doing his best to improve his bowling but demanded more respect for players.
"Cricket is because of the players and the cricket board must respect the players. If there is a mistake on the part of the players they must be told about that and if selectors want to drop them, they should tell the players," he added.
"Misbah-ul Haq is leading the team well and our combination is very good, so I expect better results if we stick to our plans and play to our potential."