Kevin Pietersen must get Ashes build-up right, says Bob Willis
Jonny Bairstow must prove he's a big-game player in Kevin Pietersen's absence, says Bob Willis.
Last Updated: 16/04/13 7:03pm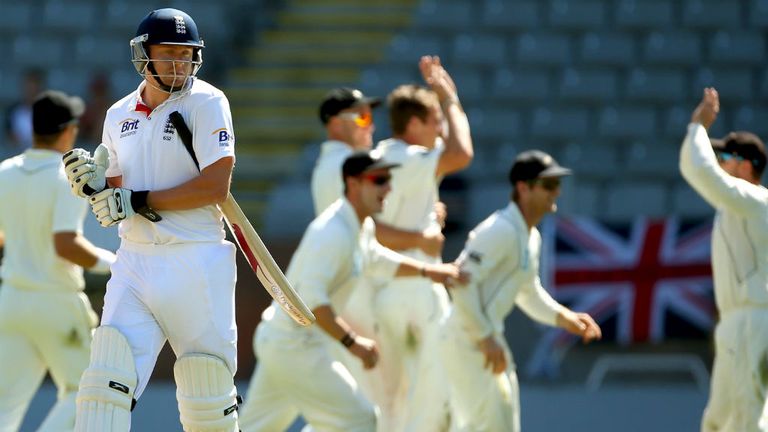 Pietersen says he's got his fingers crossed that his right knee will recover in time for Australia's tour, which doesn't sound very scientific or encouraging, particularly as the selectors will want him to get some cricket under his belt well before the first Test at Trent Bridge in July.
But if anyone can raise his game for an Ashes series with limited preparation time, then Pietersen is that man.
I don't know if we should expect to see him still playing Test cricket for England in 2015, so these back-to-back series against the Aussies are likely to define his legacy as a Test match cricketer.
Pietersen looked hopelessly out of form at the start of the New Zealand tour this winter so in the more immediate future he will need to get some matches under his belt and this summer's Champions Trophy and England's Ashes warm-up match against Essex at Chelmsford in July will all help.
He should also benefit from turning out for Surrey as much as he can, too, as soon as he feels ready.
Once any player gets into their mid-thirties injuries like Pietersen's do take longer to heal and I'm sure England skipper Alastair Cook will be keen to get him involved with the squad as soon as possible but it's important not to rush Pietersen's return.
Consistency
Jonny Bairstow replaced Pietersen for the third Test in Auckland in March and it seems likely that he'll step in again for this series against the same opposition even though he only made scores of three and six.
The selectors are very loyal to people who are around the team - they like consistency - but Bairstow will need to put some runs on the board for Yorkshire in the early part of the season to make sure of his place.
There's no doubt that Bairstow is a competitor and the selectors seem to like his attitude. He has clearly integrated into the side very well too but the fact of the matter is that it's not clear yet whether he can cut it at Test level.
I did feel for him at Auckland, given that he went into that third and final Test having played just one first-class match in seven months, but that's the nature of the beast these days.
The jury is out on whether he has the right temperament to handle the big occasion - something you can't say about Joe Root, whose strength of character dug England out of trouble when they needed it this winter.
Adaptable
My own choice to replace Pietersen for the New Zealand Tests would be Eoin Morgan because I think he's got a particular talent that England should be exploiting.
The ECB seem fairly comfortable about Morgan playing in the IPL (even if it is unclear when he will return) but he does need to get back and play some preparatory cricket for Middlesex if he is to be in serious consideration for this Ashes and the subsequent tour of Australia.
The ECB must have thought long and hard about giving him a full-time contract but they did and so it follows that they must have seen him as part of their Test match set up, even if Bairstow and Root have jumped ahead of him in the pecking order at present.
Morgan had a major flaw when he first came into the Test team - his crouched position at the crease was ridiculous - but he has shown since that he is adaptable. To my mind he has a better temperament than Bairstow, but both will struggle to get into the side when Pietersen returns.
That's something of a shame because the prospect of seeing Pietersen, Morgan and Matt Prior in full flow and taking the game to the Aussies would be an exciting one.
Nip
England's back-up staff certainly have their hands full at the moment.
Pietersen's problem is hopefully no more than a headache, so to speak, but the recurring natures of the injuries affecting Graeme Swann and Tim Bresnan are both very concerning.
The medical team need to get to the bottom of them as soon as possible because 2013 is going to be such a hectic time for those involved in more than one format of the game. There may be some question marks about Swann's long-term future in limited overs cricket if this elbow is going to keep recurring for him.
Stuart Broad has missed a lot of cricket over the years too. It's one thing monitoring players but I do think that England need to make quicker decisions about diagnosis and what the treatment is going to be.
When Broad, James Anderson and Steven Finn are all fit England's bowling attack picks itself.
Bresnan is back playing for Yorkshire now, but the one player I'm keeping a particularly keen eye on is Chris Tremlett at Surrey.
I know that bowling coach Neil Saker is a huge fan of his, not least because he made such a terrific difference to England when he came in during the last Ashes series in Australia.
Two or three of the current crop of Australian top-order batsmen don't like the ball around their noses at all and Tremlett will be right in the selectors' minds if he can put together some performances for Surrey.
That's even more so the case given that Finn struggled to make his mark as a strike bowler in New Zealand, even allowing for the fact that the pitches were painfully slow.
If you can move the ball around even a little bit at high pace, it makes such a difference because most batsmen will struggle. South African Dale Steyn keeps proving that time and time again.
But both Finn and Graham Onions seem to have lost a bit of nip and that might just open the door for Tremlett.