Jonathan Trott blames Lord's wicket for England's slow scoring rate against New Zealand
Jonathan Trott blamed the Lord's wicket for England's slow scoring rate on the first day against New Zealand.
Last Updated: 17/05/13 10:41am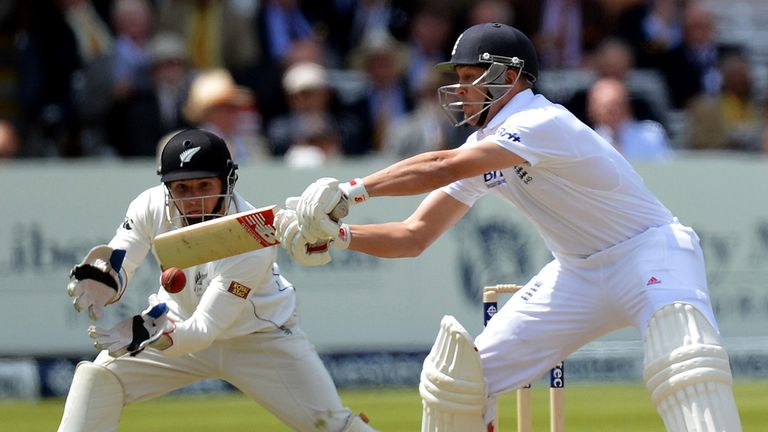 The home side laboured to 160-4 from 80 overs - 30 of them maidens - before rain brought a premature close.
Trott ground out 39 from 96 balls before being caught at third slip off Trent Boult just before tea, while Ian Bell took 133 balls to make 31 as England sought to occupy the crease at any cost.
"It was very hard graft, I don't think it is a very fluid wicket, I think it's going to be scruffy," said Trott. "We're going to have to work hard.
"We're quite spoiled normally by good wickets. It was a hard day but a good start to the Test series.
"New Zealand bowled well and stuck to being disciplined and made life difficult for us."
Of his own dismissal, Trott added: "I was disappointed to get out just before tea. Ian and myself had a good partnership which you need if you are to build a good innings."
Pressure
Boult, who claimed 2-29 in 17 overs, believes New Zealand have the upper hand and warned the first hour of the second day could be crucial to the outcome.
He said: "We stuck to our plans and built pressure and we would definitely have taken 160 for four at the end of the first day.
"There will be lots to be done in the first hour and it will set the tone for the rest of the day so looking forward to that."
"It was a pretty satisfying day, I've been looking forward to this for a wee while. It definitely fulfilled expectations, and as a group we bowled pretty well.
"It was frustrating the weather crept in with 10 overs to go - but looking forward to a big day on Friday."