Jonathan Trott hopes England can overcome rain and New Zealand
Jonathan Trott is hopeful the weather does not prevent England from securing a series whitewash against New Zealand.
Last Updated: 28/05/13 10:58am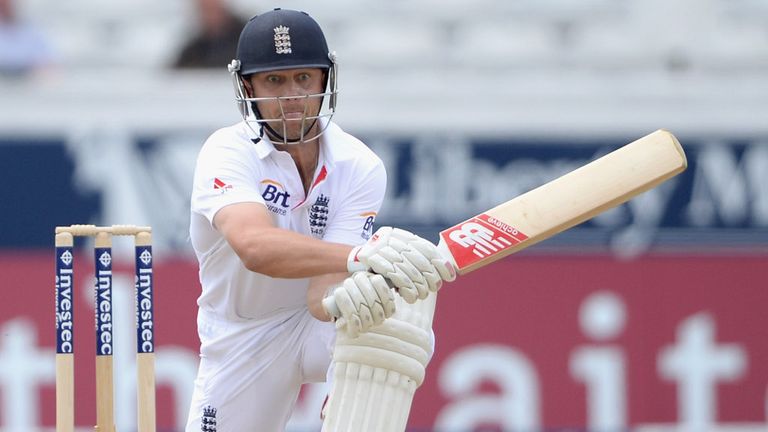 Skipper Alastair Cook was criticised by some for not enforcing a follow-on with the tourists 180 runs behind and with rain forecast for all of Tuesday the second Test looks set for a draw.
Graeme Swann snared four wickets for 61 runs to reduce New Zealand to 158-6 at the end of day four, but his spinning efforts look set to go unrewarded, although England will be guaranteed a series win regardless.
Trott, who scored 76 to help England eventually declare 467 ahead, told Sky Sports: "Hopefully we can get a couple of hours' play tomorrow and do the business.
"Graeme bowled really well, backed up by the seamers."
Reflecting on Sunday night, he added: "The plan was to just bat out the day and reassess. We wanted to lay a foundation to accelerate today rather than snail along to a total we could declare at.
"The off-spinner was throwing it wide, the ball was reversing a bit and I didn't want to throw it away. There wasn't a huge idea of 'we want to win the game today', we didn't want to play to the weather.
"That's why we didn't enforce the follow-on - we were only 180 ahead and if they get to 150 ahead, you don't want to bat on the last day if the weather
doesn't come.
"But I think we got it spot on to be honest. We set out to get the total we wanted and we achieved that in the time we wanted. To get six wickets as well is a good day of Test cricket, I think. We're in a good position. We need four wickets to win a Test match and win a series."
Ross Taylor's 70 was the bedrock of New Zealand's resistance but the former
captain was frustrated by his late dismissal, when he was bowled by an unusual Swann delivery.
"It was disappointing to get out two overs before the scheduled end of play,"
Taylor said.
"I felt as comfortable as I have in the series, I just missed a yorker."
New Zealand skipper Brendon McCullum and Tim Southee will have to rein in their attacking instincts in between any rain delays at Headingley, with little other batting to follow.
"We need to show some fight and hopefully this weather can help us out," Taylor said. "You don't like saying that but hopefully the weather can help us out, and Timmy and Brendan have to bat for long periods tomorrow.
"England are in the box seat. We need a bit of help and we'll have to wait and
see when we pull back the curtain in the morning. Something similar to the first day (washout) would be quite handy.
"A draw is always better than a loss but England have thoroughly dominated the game. If the rain comes tomorrow, we'll see whether they did the right thing waiting to declare."