Ashes 2013: how England beat Australia 2-1 in 2009
After the whitewash of 2006/07, the Ashes Panel examine how England rallied to beat Australia in 2009.
Last Updated: 09/07/13 2:28pm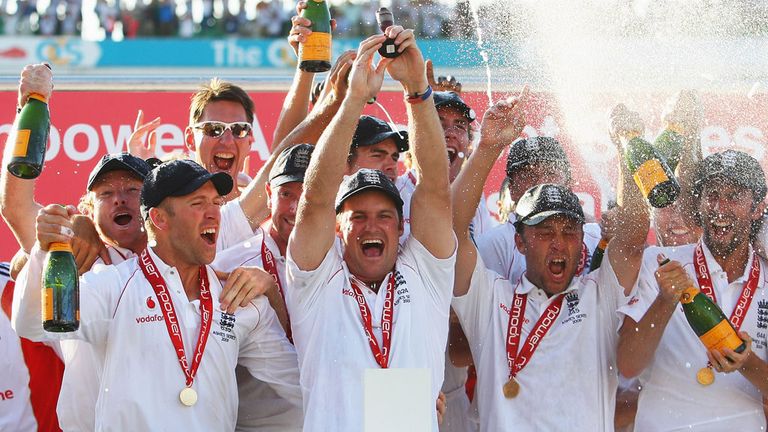 Former England captains David Gower, Sir Ian Botham, Bob Willis, Michael Atherton and Nasser Hussain had the best view in the house as England completed a memorable 2-1 triumph on home soil.
Here are their memories of how Andrew Strauss led his side to glory in one super summer...
skysports.com: After the whitewash of 2006/07, England had a point to prove to Australia on home soil. How did they win back the Ashes?
Nasser Hussain: first Test, Cardiff - match drawn
This is where the Ashes was won and lost for me. It would have been incredibly difficult for England to try and win the series from 1-0 down so it was crucial to hold out for the draw on that last day and all credit to Paul Collingwood and the boys down the order for the way they battled to save the game. Their escape had a similar impact as England's win at Edgbaston in 2005, in as much as the teams went forward level in the series with everything still to play for.
Overall, it was an incredibly good Test that set up the series brilliantly. A huge amount of credit for that has to go to Glamorgan and all the people involved at the Swalec, who staged the whole thing brilliantly. It was the first time a Test had been played there and, if I remember rightly, it was a sell-out for all five days; the weather was good and an equally good pitch - which enabled Australia to demonstrate just how good their batting line-up was - meant the crowds saw a great contest that went right down to the last ball.
The climax, of course, was riveting. Who'd have thought that James Anderson and Monty Panesar could have held out for so long? The intensity grew the closer the end got and there was all the drama of twelfth man Bilal Shafayat coming on with gloves for the last pair and Ricky Ponting telling him to get off while the crowd counted down the overs and then the time.
But none of that could have happened without Collingwood's match-saving 74 in 344 minutes. It was either Collingwood at his best, or his worst depending on your point of view. He is such a fighter, such a scrapper that he was exactly the right man for that occasion. He didn't do a lot in the series after that, possibly because that innings took a lot out of him, but he'd already made a major contribution to England winning the Ashes. His back-lift became practically non-existent and he resolutely kept Australia at bay for almost six hours - a fantastic achievement.
Michael Atherton: second Test, Lord's - Eng win by 115 runs
Just as it had been four years earlier, the second Test proved to be the pivotal match of the Ashes. Instead of Edgbaston, though, England won at the home of cricket beating the Australians there for the first time since 1934 and in some style too. England's win, which represented a remarkable change of fortune from Cardiff, is perhaps most memorable for Andrew Flintoff's second-innings five-for - which included one of the best spells of fast bowling of the modern era. The fifth and final day began as quite a tense affair with Australia needing 209 to win with five wickets in hand and Michael Clarke unbeaten on 125 and Brad Haddin 80no. The tourists looked like they might have half-a-chance but then Flintoff got amongst them and the way that he communicated with the crowd was fantastic to see. Five days earlier he had announced, somewhat controversially given the timing, that this was to be his last Test series. His knee was obviously fairly dodgy in that series so it was his final proper bowling spell as a Test cricketer.
The stage was set by Andrew Strauss, who led by example and struck an unbeaten 161 on the first day. He's got a good record at Lord's for county and country and is a terrific player of pace bowling, which is why I expect he will do well in Australia this winter, too. Mitchell Johnson's bowling was iffy at Cardiff and everyone thought it was a one-off but after Lord's most came to realise that he wasn't the bowler people thought he was, perhaps because he was struggling with the Duke ball, and as it turned out he was all over the shop for much of the series.
Strauss chose not to enforce the follow-on after Australia were bowled out for 215 but that's the way of things these days. Older cricketers almost always tend to think that you should enforce the follow-on because that's how it was done, but today's players tend to wait. It wasn't a clear-cut decision either way on this occasion; most people felt Strauss was justified in what he did and history shows that his decision secured the right result even though Clarke's footwork was outstanding against Swann, who got the ball to turn very sharply and fully deserved his four second-innings wickets.
Bob Willis: third Test, Edgbaston - match drawn
The Lord's victory gave England a huge fillip and they went to Edgbaston, where traditionally they enjoy playing, full of confidence. Unfortunately poor weather all but scuppered any chance of a result as around five-and-a-half sessions were lost. In effect, it became a period of consolidation for England in the series and, in the injury-enforced absence of Kevin Pietersen, showed that the selectors' policy of playing batsmen all of the way down the order could pay dividends. Dear old Freddie weighed in with some runs on day four in a thrilling partnership with Matt Prior, and Graeme Swann and Stuart Broad (55) in particular made decent contributions too. It was unfortunate that Ravi Bopara couldn't establish himself in this Test, or the series in general, but Ian Bell announced his return in place of Pietersen with a fifty and since then he's gone on -particularly towards the end of this summer when he's played some of the best cricket of his career - to prove what a class act he is.
On the bowling front I was pleased to see Graham Onions cause some panic - his two wickets at the start of day two prompted a stunning Australian collapse that gave England the edge. It was a shame that injury stopped him taking part in the next campaign in Australia in 2006/07 because I've always thought he is an extremely talented bowler who doesn't necessarily need swinging conditions to be effective. It's a real shame England are once again without his services this winter.
After the disappointment of Cardiff, where neither of the spinners did much with the ball for England, Swann showed clear signs of development at Edgbaston, bowling Ricky Ponting with a superb off-break in the second innings. But the stand between Marcus North and Michael Clarke proved impenetrable until any outside chance of a result had disappeared entirely so England still held a slender lead going to Headingley, another ground that invokes great Ashes memories.
David Gower: fourth Test, Headingley - Aus win by inns and 80
There was a real feeling in the England camp going into this Test that they were on a roll and that led to fair amount of over-optimism; after all, they were one good performance away from the Ashes. England wanted to bat first - despite all of the late confusion over whether Matt Prior would recover from a back spasm in time to play in the game - to gain control of the game. So it was a hugely rude awakening to be bowled out for just 102 in the first innings. How very unfair of the Australians to have other ideas! But that is part of the magic of Ashes series - just when you think you are on top and you are going to cement your position, the Australians come back at you. It was a fine bowling performance from them on that first day, from Peter Siddle and Stuart Clark in particular, and they went into day two with a decent lead.
With Andrew Flintoff ruled out of the Test by injury, England went in with the extra bowler which in recent years they have been reluctant to do. That itself changed the dynamic of the team and forced the batsmen at the top of the order to adopt a different thought pattern, with each required to contribute more runs. As it turned out they didn't cope with that pressure.
By the time Stuart Broad and Graeme Swann took the attack to Australia on day three the game had been and gone; it was entertaining and boosted morale to some extent but only delayed the inevitable after England had collapsed from 58-0 to 82-5, Mitchell Johnson for once doing the damage. Broad followed up his 6-91 with an entertaining 61 to help swell England's second innings by 163 runs in a 24-over session but it only papered over the cracks. The Test acted as a sharp reminder that for all of England's good intentions, they could not afford to get it wrong on the first couple of days. It was a useful, if somewhat unwanted, lesson ahead of what would now be the series decider in the fifth Test at the Oval.
Sir Ian Botham: fifth Test, the Oval - England win by 197 runs
Stuart Broad has had a lot of cricket since that fantastic day at the Oval when he ran through the Aussies to tilt the final Test in England's favour - and in the year or so since then there have been plenty of ups as well as downs - but if he wants to think back to that spell when he took 5-26 in nine overs and use it as his yardstick, then that's fine. Broad performs at his best when he bowls with controlled aggression, principally aiming to hit the top of off-stump but with the occasional other ball mixed in. We all said at the time that we hoped he'd come of age and while things haven't always gone his way since, he's had a taste of what it's like to beat the Aussies and that performance should always be in the back of his mind as a benchmark.
Winning or losing the Ashes all comes down to picking the right players - ones that can handle the pressure and perform when it matters and Jonathan Trott certainly fitted that bill in 2009. He had learnt his trade the hard way and looked well-sorted to make the most of his chance; he looked like a man who belonged and but for a brilliant reaction catch by Simon Katich he might have posted a big score in the first innings. He did score a century second time around and the Aussies had no way back. It will be a different experience for him in Australia, as it will for a lot of the other players - they will have to learn and adapt very quickly. But he showed with that innings that he is capable of doing all that.
Let us know your highlights of the 2009 Ashes by filling out the feedback form below.
Sky Sports Ashes HD will show exclusively live ball-by-ball coverage of the Investec Ashes this summer. Find out more about our coverage and how you can tune in here.