England v New Zealand: Andy Flower insists Ashes series still a 'long way off'
Andy Flower heralded a job well done by his England side after they secured a 2-0 series win over New Zealand.
Last Updated: 28/05/13 10:16pm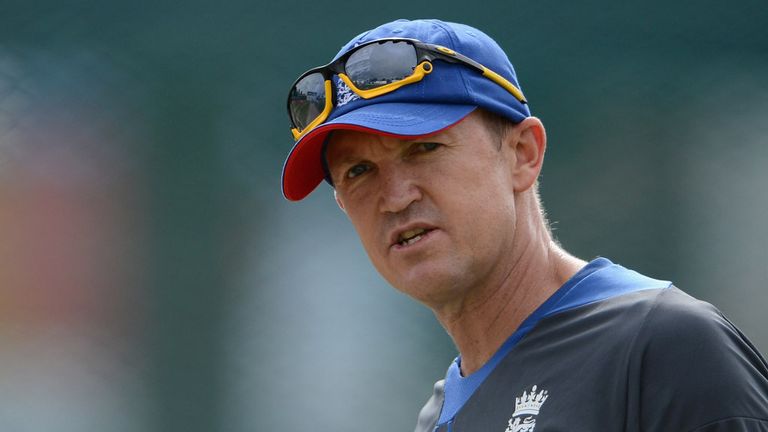 Graeme Swann claimed a 10-wicket haul - something no spinner had achieved in a Test in Leeds since 1972 - as the hosts dodged the showers to claim the four wickets they needed on the final day.
The 247-run triumph followed on from an equally-emphatic victory at Lord's, meaning England head into the Ashes later this summer in good form.
"The guys played well to win these two games," Flower told Sky Sports. "New Zealand are no pushovers, we saw that in New Zealand when they played some excellent cricket.
"Here, with the Dukes ball, I thought they bowled in a very disciplined and skilful fashion. They swung it all the time. They will cause problems for a lot of sides if they bowl with that level of skill.
"It was interesting to see how skilful our players had to be to combat that.
"It was nice to see some of our performances - Root, Swann, Cook again, Finn on a dry deck showing what his extra pace and bounce could do. Those are good signs for us.
"We didn't swing the ball in New Zealand and you're going to struggle against international batsmen if you don't move it sideways. These pitches provided a little more rough for the spinner to operate into.
"All in all, we're very satisfied with a 2-0 win."
He was somewhat critical of the Headingley ground staff for reacting slowly to changing conditions on the final day.
Flower said: "I don't think I should be out there doing the officials' job.
"It wasn't raining so I'm not sure why the covers weren't being removed. I can't understand why it took so long to get the game started, regardless of the position we were in in the game.
"The officials have a responsibility to get the game going when conditions are suitable. It wasn't raining and the lack of activity was baffling."
Opening up
The only area of concern for Flower and the rest of the selection panel will be the form of opener Nick Compton, who made just 39 runs in four innings.
"He's struggled in these few Tests, but the Ashes is a long way off," the former Zimbabwe international added without wanting to confirm the Somerset batsman will keep his place to face Australia.
"There's a little time between now and Australia - let's let the dust settle on the series and we will chat about the line-up, the conditions and the opponents we will face."
Joe Root is certain to be part of the line-up for the opening Ashes Test at Trent Bridge; the Yorkshireman continues to blossom in the international game, scoring his maiden ton on home turf at Headingley.
Flower was full of praise for the right-hander as well as his county colleague Jonny Bairstow, who could be the man to make way from the team if Kevin Pietersen is fit to face the Australians.
"He looks an excellent cricketer. His decision-making in the middle, his balance, has been excellent in his fledgling career so far," he said.
"It was great to see him get a debut hundred at his home ground, and it was nice to see the enthusiasm and passion that the Yorkshire showed Joe.
"It was also great to see Jonny Bairstow bat with him - I know how happy Jonny was for Joe to get that hundred, which is really nice to see. That was a special moment.
"They're both good young men, very different characters but will hopefully they will both have very successful England careers and help England win more cricket matches."