Second ODI: England look to shake up bowling attack against New Zealand
Boyd Rankin could make his England debut in the second one-day international against New Zealand on Sunday.
Last Updated: 02/06/13 10:23am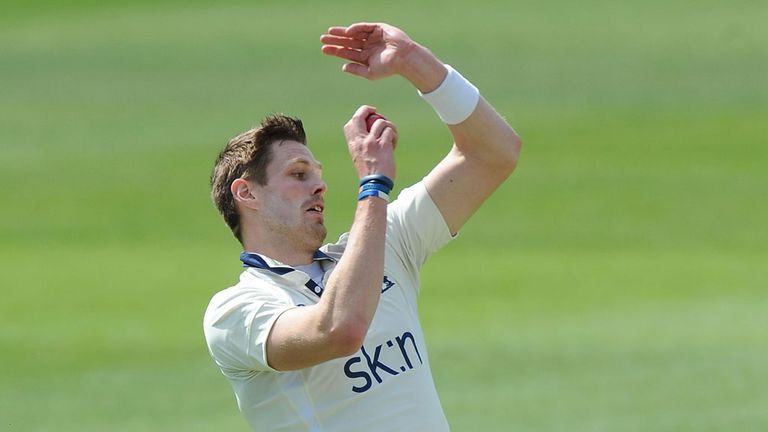 Rankin, a 6ft 7in former Ireland international, has been called into the England squad for the clash, which will be held at the Ageas Bowl in Southampton.
The venue often favours bowlers for whom extra bounce is a major weapon and with Stuart Broad and Steven Finn on the sidelines due to injury Cook's side, who lost the first contest in the series by five wickets, may well feature Rankin.
Other seamers such as James Harris or Stuart Meaker appeared to be above Rankin in the pecking order but as they lack the towering stature of the 28-year-old, they were not given the call.
"James Harris did well when he came into the squad, and impressed everyone, but you'd have five bowlers of pretty much the same height and very similar skills," Cook said.
"When you've got five bowlers, you want as much variety as you can in there. So when you lose two tall bowlers, you want to try to replace them with another tall bowler if you can."
Ineffective
Seamers Chris Woakes and Tim Bresnan went for a combined 0-81 in the opening match at Lord's, while Jade Dernbach returned figures of 1-55 from his ten overs.
Dernbach was originally called up as cover for Bresnan as the Yorkshireman's wife is due to give birth, but both played on Friday due to the absences of Broad and Finn.
"Obviously, they're (Broad and Finn) key parts of our one-day team and experienced and world-class campaigners," added the captain.
"The guys coming in haven't got that experience yet and probably don't know their games quite as well as those two do. It gave them an opportunity today to show everyone how good they are - they're quite hard boots to fill."
It is unclear when the two established tall men will be able to return to action, but Cook played down suggestions of resting them for the ICC Champions Trophy in order to keep them fresh for the Ashes later in the summer.
"Quite clearly, the Champions Trophy is a major ICC tournament - so that is on our priority list," he said.