Tredwell and Finn should play in Champions Trophy Final, says Botham
Sir Ian Botham says England should not change a winning team for the ICC Champions Trophy Final.
Last Updated: 19/06/13 9:36pm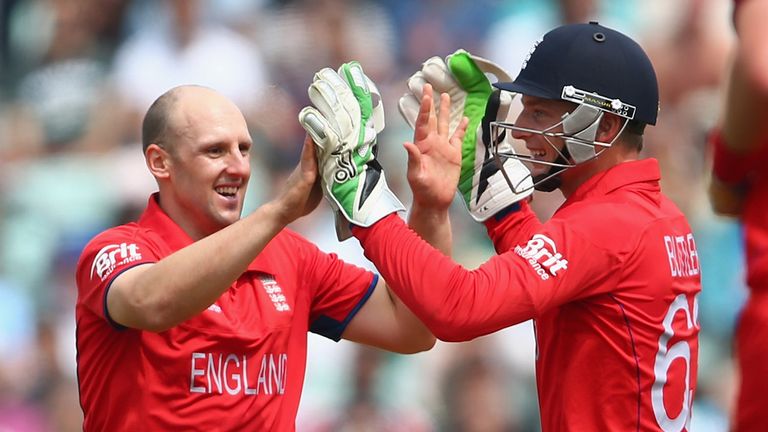 The tournament hosts were in sizzling form as they won Wednesday's semi-final at The Oval by seven wickets, despite the absences of the injured Graeme Swann and Tim Bresnan, who was attending the birth of his son.
Their replacements James Tredwell and Steven Finn were hugely impressive with the former taking three wickets for just 19 runs and the latter claiming the prize scalp of Hashim Amla.
And Botham feels the duo should retain their places for Sunday's final against India or Sri Lanka at Edgbaston.
He told Sky Sports: "They totally outplayed South Africa today. They had South Africa under the thumb from the first two overs. They lost a wicket at each end and they were chasing the game. It was an excellent performance from England.
"I thought the side looked very well balanced. They look good. I like the extra pace and height of Finn and you can't leave Tredwell out for the final.
"I don't see the point on risking Swanny. I just don't see the point in doing that. He's struggled in the tournament and he's got a calf injury. He's not getting any younger and calf muscles can niggle for a while.
"On current form, Tredwell is out-bowling him in one-day internationals. I'm not talking about Test cricket. I think he's done a great job and hasn't let the side down ever when he's come in.
"In this format of the game Tredwell is way ahead at the moment. He's the form man and I would stay with it. It's no slight on Swann, who's going to be massive in the Ashes but in this format Tredwell has done enough.
"I'm not sure you'd want to change a winning semi-final side. The side played well today, they've won in style and you've got a problem now because Finn got the big, big wicket of Amla.
"That was a massive wicket so where do you go?"
Order
One change that Botham would like to see is the promotion of Jonathan Trott up the order to open the batting.
England's number three top scored at The Oval with 82 runs from 84 balls and the Sky Sports pundit would like to see him involved from the start to have even more impact on an innings.
"I've always said I'd like to see him at the top of the order, not batting at three," Botham added.
"I think he's the kind of guy who builds an innings, but wants the pace on the ball. If England get off to a 10 or 12-over start and he comes in he might be straight into the spin.
"I think he'd be much better for England right at the top of the order to let him dictate. If he gets 110 or 120 in 50 overs then England are on for 330 or 340.
"That's the way I see it and you can't possibly consider leaving him out of the side. That would be ridiculous with the runs he's got. People were talking about that at the start of this tournament.
"My only argument is that I want him to go right to the top of the order because I think he'd enjoy that challenge. Also, I think he'd enjoy those extra 10 overs."
Win
Botham appeared in two finals during his playing days, but England are yet to win an ICC 50-over competition.
However, he feels that the drought could be set to end this weekend if the batsmen perform as they did against South Africa.
He added: "This might be the time if England perform as they have today and continue that form.
"They've always been pretty good in the field - and I thought Jos Buttler did extremely well behind the stumps - and if you get the bowlers performing, which they do 99 times out of 100 as the most reliable part of this English machine.
"It was important that some of the batsmen got runs today and they did. I thought Trott played magnificently, Joe Root doesn't stop impressing me and it was very important that Eoin Morgan got some runs, just to feel the ball on the bat. I think that's quite essential for the way he plays.
"I actually think England can win this."