Ashes: Spin will have limited impact in first Test says Graeme Swann
England spinner Graeme Swann says swing and seam bowling will determine who wins the first Ashes Test.
Last Updated: 10/07/13 11:21am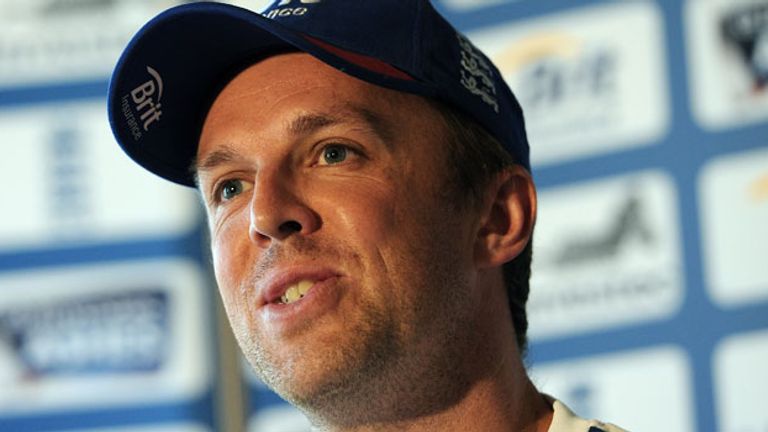 Trent Bridge hosts the opening Test, which can be seen live on Sky Sports, and gets going on Wednesday with many tipping Alastair Cook's men to dominate Australia and secure a third successive series victory.
Swann played a crucial role in England's back-to-back successes at home in 2009 and then in Australia in 2010/11, and is likely to star again over the five Tests but he accepts he may have to wait to grab the headlines over the next two months.
"It's not a ground I've taken a hatful of wickets on," said the 34-year-old who has only just returned after elbow surgery and an arm injury.
"But I'd never taken a wicket at Headingley before playing against New Zealand there last month, so I don't really think 'wow, I've not done well here before'. I like bowling here though, but I accept there is not much help in the pitch for a spin bowler.
Dangerous
"I think I took my first Test wicket here last year. I played a Test match here against Pakistan and I bowled two overs in the game - because it swung so dangerously.
"The India game, I remember going at about 10-an-over. They were so roughed up by the bouncer at the other end, they were just eyeing me up and hitting me everywhere."
The swing and seam of James Anderson and Stuart Broad are likely to be England's Plan A for wickets in the opener, despite the dry spell which may yet bring Swann into the equation.
Asked if he expects the ball to turn, he added: "I'm not sure it will. I know Trent Bridge like the back of my hand, and it could be dry for four months and it wouldn't be a turning pitch. Having said that, most teams don't have left-armers.
"So if Mitchell Starc and whoever else they play can kick up a bit of dust, that might make it a bit more enjoyable to bowl spin."
Shock
Swann is relieved just to be available for selection, considering he went under the knife in the United States four months ago and more recently suffered a painful blow on his bowling arm when Tymal Mills hit him with a short ball in England's Ashes warm-up match last week.
"I was pretty convinced I would never walk again, with my broken arm," he joked. "I think I was in shock - all my dreams were flashing in front of my eyes.
"I was wondering round in shock thinking 'I'm not going to play'. I couldn't hold a bat for the next 40 minutes - but then after stamping my foot petulantly and demanding an x-ray, I got the all-clear and sheepishly admitted it was only a bit of a bruise."
England had already taken the precaution of pulling Swann out of the away series against New Zealand at the end of February, to have his operation, and he was then used very sparingly during their Champions Trophy campaign last month.
"I have been thinking about this for months now," he said. "I was lying in my bedroom in America after the operation - and all I was thinking was that 'this had better be right and firing in time for the first Test match at Trent Bridge'."