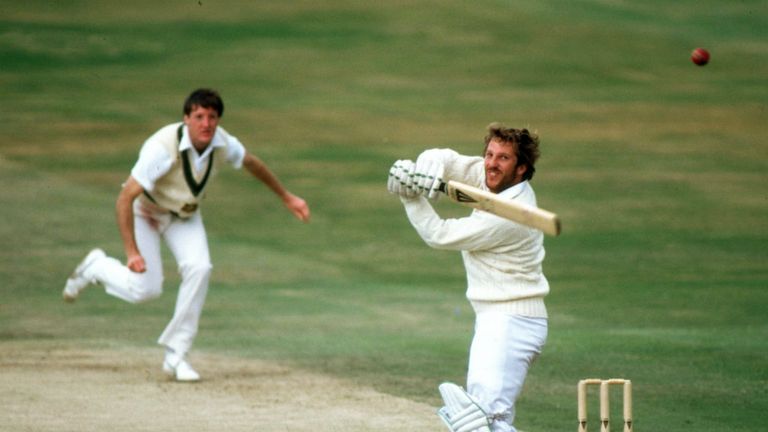 Nearly 32 years on from his Headingley heroics you've voted Ian Botham's 'Boy's Own' 149no in the third Test of 1981 as the Greatest Ashes Moment of all time.
Over the last five weeks we've invited you to assess 40 of the outstanding displays and occasions in clashes between England and Australia since the battle for the urn began and you had your say on which ones deserved to go through to our final poll of eight.
In the end it came down to a straight shoot-out between England's dramatic victory at Edgbaston in 2005 and Botham's blitz, which set the stage for an incredible 18-run win at Leeds.
After a week's voting, barely one per cent separated the two choices with Beefy's knock (29.45 per cent) just edging out one of the finest finishes to a Test match ever seen (28.28 per cent). Here are the final statistics in full.
Audacious
England arrived at Headingley in 1981 1-0 down in the series after losing by four wickets at Trent Bridge and securing a draw at Lord's.
Their odds of winning the third match had slumped to 500-1 before Botham's gung-ho innings, in collaboration first with Graham Dilley (56) and then Chris Old (29), transformed a side that was following-on a whiff of hope.
Sky Sports pundit Bob Willis, batting 11 for England that day, takes up the story. "It was a staggeringly audacious piece of batting," he recalls.
"In the context of that series it wasn't as good an innings as his knock of 118 at Old Trafford because he just went in initially and had a swing.
"But the gods were with him - the edges flew over and around the slips - and he got better and better as the innings went on. He certainly inspired Graham Dilley and Chris Old to do the same thing.
"Our last-wicket partnership proved to be very valuable. Even though I only got two, those 37 runs proved crucial to what turned out to be an 18-run win."
Awe-inspiring
The transformation was complete after Willis tore in to claim incredible figures of 8-43 as Australia were skittled for just 111 in 36.1 overs, with Extras (18) finishing as third top-scorer.
As inspired a spell as Willis' was, though, the man-of-the-match award was already sewn up.
"The way Beefy's innings changed the Test was extraordinary because we'd all booked out of our hotel in the morning thinking we'd be 2-0 down in the series and that some of us had played our last Test," recalls Willis, "so it was awe-inspiring to see it unfold.
"That knock encapsulated what that series was all about. Australia were still coasting to victory when they were 56-1 chasing 130 but we snapped up the wickets of Trevor Chappell, Kim Hughes and Graham Yallop before lunch and then you could feel the pressure going from our shoulders onto Australia's.
"Fortunately for me they kept getting edges or hitting the ball up in the air and as a team we took some brilliant catches. You couldn't have written a script for it!"
Everybody who voted in our poll was entered into a prize draw to win a signed photo of Sir Ian Botham and free Sky for a year with Sky Sports. We're delighted to say that the winner is...
James Stevens, from Oxford. Congratulations James!
Sky Sports Ashes HD will show exclusively live ball-by-ball coverage of the Investec Ashes this summer. Find out more about our coverage and how you can tune in here.
Cricket coverage on Sky Sports is available on TV, PC and on the move via mobile and tablet devices, thanks to Sky Go.
Sky Sports has also launched an enhanced Ashes experience within the Sky Sports for iPad and via the Ashes Event Centre on skysports.com, providing users with even more viewing options, data and insight throughout the series.
Sky Sports News HD will provide daily reports, views and analysis throughout the Ashes while skysports.com, the UK's leading commercial sports website, will offer visitors all the latest news, video and match coverage.
Click here to find out more about NOW TV, while to check out the Ashes Event Centre simply click on this link.